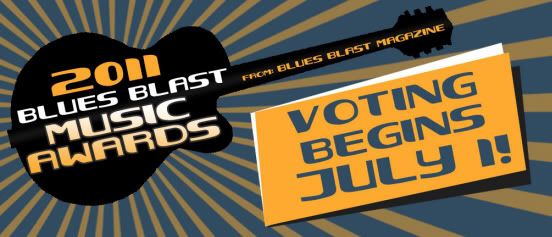 Nominations for the 2011 Blues Blast Music Awards have been announced and many of the names from the 2011 Blues Music Awards are nominated here as well. It's up to you to decide if the results will be the same.
Buddy Guy is once again nominated multiple times and with the October awards ceremony being held at his club, Legends, it's hard to imagine he's not going to win more hardware. Beyond Guy, we have names like Nick Moss, Eden Brent, Karen Lovely, Charlie Musselwhite, Magic Slim, Robin Rogers, Bob Corritore and more from the BMA nominees. We've also got names like Damon Fowler, The Sugar Prophets, Reverend Raven And The Chain Smoking Altar Boys, and Trampled Under Foot who weren't part of that list, mostly because of eligibility date differences between Blues Blast and the Blues Foundation.
Voting to determine the winners begins July 1, 2011 and continues until August 31st, 2011 on the BluesBlast web site. Voting is open to anyone who is a Blues Blast Magazine subscriber. Subscriptions are FREE and you are automatically signed up as part of the voting process on our website.
I'll let you peruse the 2011 Blues Blast Music Award Nominees before I weigh in with my vote and predictions.
Contemporary Blues CD
Robin Rogers - Back In The Fire
Eddie Turner - Miracles & Demons
John Németh - Name The Day
Damon Fowler - Devil Got His Way
JP Soars - More Bees With Honey
Buddy Guy - Living Proof
Traditional Blues CD
Bob Corritore & Friends (Koko Taylor, Little Milton, Pinetop Perkins & others) - Harmonica Blues
Studebaker John's Maxwell Street Kings - That's the Way You Do
Charlie Musselwhite - The Well
Rich Del Grosso & Jonn Del Toro Richardson - Time Slips By
Pinetop Perkins & Willie "Big Eyes" Smith - Joined At The Hip
Magic Slim - Raising The Bar
Song Of The Year
"Shake Your Boogie" by Big Joe Williams from Reverend Raven And The Chain Smoking Altar Boys - Shake Your Boogie
"Still the Rain" by Dennis Walker/Alan Mirikitani from Still The Rain- Karen Lovely
"Living Proof" by Tom Hambridge/Buddy Guy from Buddy Guy - Living Proof
"Don't Walk Away Run" by Chuck Glass from Robin Rogers - Back In The Fire
"The Well" by Charlie Musselwhite from Charlie Musselwhite - The Well
"Almost A Memory" by Wayne Russell from Reba Russell Band - 8
New Artist Debut Release
The Sugar Prophets - The Sugar Prophets
Chris O'Leary Band - Mr. Used to Be
Rob Blaine - Big Otis Blues
Vincent Hayes Project - Reclamation
Matt Hill - On The Floor
Peter Parcek - Mathematics of Love
Male Blues Artist
John Németh
Kenny Neal
Tad Robinson
Magic Slim
Nick Moss
Buddy Guy
Female Blues Artist
Teeny Tucker
Robin Rogers
Reba Russell
Eden Brent
Karen Lovely
Janiva Magness
Blues Band
Magic Slim & The Teardrops
Nick Moss Band
Reverend Raven And The Chain Smoking Altar Boys
Derek Trucks Band
Trampled Under Foot
Reba Russell Band
Sean Costello Rising Star Award
Gina Sicilia
Damon Fowler
Matt Hill
Trampled Under Foot
Joanne Shaw Taylor
Vincent Hayes Project