Welcome back to American Idol's second night of auditions, this evening we're joining the gang in Chicago. And despite the bragging from Fox that season 12 of American Idol would be a season unlike anything we've ever witnessed, it seems fans were turned off by judging and format changes, bringing in 18% fewer viewers from last season making last night the lowest rated Idol premiere in the show's history. What do you think of the changes and new judges Nicki Minaj, Keith Urban, and Mariah Carey?
Due to a minor technical glitch I missed about 15 minutes at the beginning of the show but hear Mackenzie Wasner and Kiara Lanier made it through and were amazing. Gabe Brown comes bearing cookie gifts and a very loud, shouty rendition of "Gimme Shelter" that I think the judges wanted to like despite it not being good at all. Keith even whooped and threw his arm up. They asked him to do another and despite his crappy voice "Curly" makes it on through to Hollywood.
Kevin Nabity is a big Vanilla Ice/"Ninja Rap" fan so this can only go well, right? He gives us "One Week" by Barenaked Ladies and it was as spastic and unintelligible as you'd imagine. Now we get the Trail Of Tears video collage that uplifts my soul and strengthens me enough to face another day.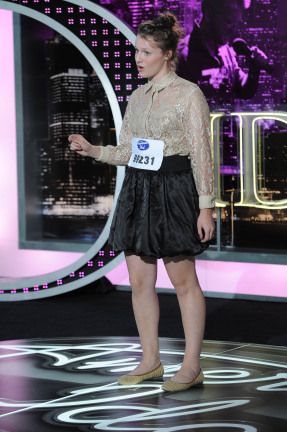 Isabelle Parrell is 15 and skipping school hoping to impress the judges with her rendition of "Baby It's Cold Outside" and recruits Keith to do the male vocal part which is ballsy; I like it. Her voice is warm and has a nice, inviting quality. Mariah loved her "sweet" voice and loved that she did a Christmas song. Nicki complimented her poise, tone, and star quality. Randy Jackson voted "No" but, with three other yeses that meant nada.
Now we're down to three judges because Keith had to rush off to a concert in Vegas leaving Randy in the middle of the two ladies. Nicki is taking her leopard print outfit to heart and Cougaring all over the male contestants. Wisconsin's Griffin Peterson comes in and she takes it up a notch. The difference here is that he can actually sing. Nicki said he lights up. Randy said he's good looking but posseses a barely below average voice. Nicki said who cares because he's hot. Mariah says "Yes" because the women are in charge.
St. Louis native Curtis Finch Jr. blows the judges away with "God Is Able" and after receiving three solemn yeses, his friend's life was made when he was let in to meet Mariah Carey.
Next we have Mariah Pulice who bonds with our Queen Mariah then dissolves into tears recounting her battle with Anorexia, and then we get the video package showing pictures of her on both ends of her struggle. She said she got too sick to sing and said if there "was no music, I would not be alive" and singing again was the best feeling she'd ever experienced. She delivers a soulful, intense version of "Let It Be" that was so pretty and perfectly understated. It had a few weird inflections but, her voice has a lot of promise. Nicki said she "really, really, really felt that song" Randy loved her; Mariah says she's proud of her for singing through tears. She gets three easy yeses and I hope we see a lot more of this girl.
Brandy Neeley had a rough start to life and was eventually adopted by her aunt and uncle. She's completely adorable and likable and I'm so relieved that she can sing when she belts out "Your Cheatin' Heart" and gives me goosebumps. She's unpolished but has a lot of raw talent. Mariah said her voice was "A-plus-mazing" and she's a no brainer to go on to Hollywood.
Clifton Duffin has never sung in front of his family and that's usually a terrible sign but there's a first time for everything because this boy can sing! He did "Superstar" by The Carpenters and it was a little pitchy (dog) but overall very strong. His parents were so touched and moved to finally hear him and he's through to Hollywood.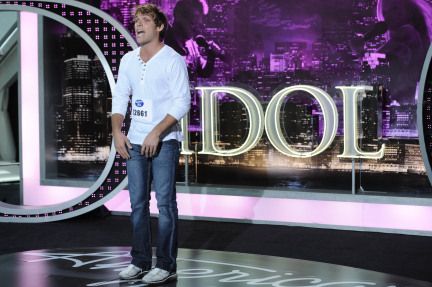 Johnny Keyser was a contestant on season 11 and while he was charismatic and had a good voice, he disappeared fairly soon. Well, he's back and looking to make a longer lasting impression. He's goofy and adorable; I think we'll keep him for a bit. He impressed the judges with "Try A Little Tenderness" that was average but like I said, he's pretty so he has a shot. We'll be seeing him in Hollywood.
Kez Ban is a total weirdo in that street performer kind of way and while I'll be in the minority here, I liked her a lot. She asked to not win but would like to get to Hollywood, she thinks winning is better suited for the little 17 year old girls who says "this is my dream." She first gives us a forgettable, passable song but, where the magic lies is in her original song with her guitar. The judges are won over. She's too weird for America and will disappear but, I like her and she's going to Hollywood!
I'll spare you the ridiculousness I endured in these 10 minutes of a lame segment they titled "The Miserables" and the wacky chick who wouldn't stop singing at the judges. Randy tells her the singing thing is not for her and it's a shame no one told her the truth before now. It didn't end well for her as security leads her off stage.
We're once again teased by Ryan Seacrest's voice imploring us to stick around for the most incredible Idol story…EVER.
Besides the previous three hundred most shocking stories he means. The owner of the shocking story is Lazuro Arbos from Cuba. He's a severe stutterer and just listening to him gives me high anxiety. He's extremely sweet and handsome and even rocks a gorgeous blue shirt with a hot pink bow tie. You know this guy must have a hell of a voice with all this build up and storytelling. He got to me a little when telling about being a friendless child who no one wanted to be around because of the stuttering. We finally get to hear him sing "Bridge Over Troubled Water" and much like James Durbin from two seasons ago who suffers from Asperger's and Tourette's, all tics disappear when he sings. Keith said "just sing all the time." Randy loved his voice and said it's so pleasant. All four judges love him and we'll be seeing him in Hollywood.
Overall a drab night despite a couple standouts, there might be one or two dark horses with winner potential from this group. Mariah Pulice and Isabelle Parrell were my favorites of the night, aside from obvious choice Lazuro Arbos, who were yours?