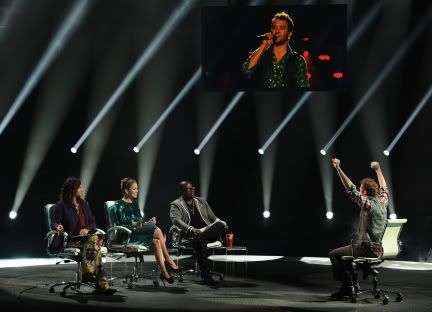 Tonight's episode of American Idol will be the most meaningful and productive yet as judges Randy Jackson, JLo, and Steven Tyler begin whittling 42 contestants down to 24. The Top 24 (comprosed of 12 Boys and 12 Girls) will be finalized tomorrow (Thursday) night and next week is the start of the live performances.
The contestants have to perform solo in front of the judges one last time, then the judges deliberate and assess each contestant's journey and performances thus far. First to learn their fate is Jen Hirsch who has had a solid run so far and flown under the radar but each time we see her she blows us away. Her final judges' performance is an emotional delivery of "Baby, I Love You" that was the weakest I've seen her so far, which the judges agree with and decide to screw with her a bit, to induce tears even before telling her she's in.
Creighton Fraker has annoyed me this entire audition process but what I call screechy and grating the judges call his "signature sound." JLo gives Creighton the run around then tells him he's the first one in the Boy's Top 12. Lauren Gray has been spotlighted pretty heavily but, never was a standout vocally until her Group Performance last week where she soldiered through a hoarse voice and delivered a smoky rendition of "Will You Love Me Tomorrow." Steven Tyler said he's fallen in love with her, that all the judges have but this isn't her time. Joshua Ledet was another Group Night standout who has flown under the radar. Based on what I heard for his final performance I can't imagine them telling him no, and we don't have to wait long before learning he's in as well.
Haley Johnson has been a fan and judge's favorite this entire audition process and has sparkled every time I've seen her on stage. The mean-spirited judges are four for four with tricking the contestants into thinking they didn't make it just to be the hero when they say "you're in, you made it!" It's sick, I kind of like it. Nico Starr wasn't even a blip on my radar until he joined M.I.T. with Heejun Han and Phillip Phillips where he was a standout even against those two very strong voices. The judges pass on him this go around but encourage him to come back next year. Elise Testone has been a raspy voiced standout from the beginning and she makes it, I don't foresee her sticking around long but the judges said she has one of the strongest voices in the competition.
Reed Grimm has consistently been quirky and unpredictable while showcasing his incredible musicality and knowledge. He played the drums for his final judges performances and will compared to last season's jazzy oddball Casey Abrams until he's voted off in the Top 10. Until then, he's made the Top 24. Erika Van Pelt has a strong voice similar to Elise's and like Elise; she's through to the Top 24 despite an abysmal final performance of Adele's "Don't You Remember?" Chelsea Sorrell was one of those whom I don't remember until tonight and despite a few bobbles Chelsea pulled out a strong performance and earned a slot in the Top 24.
Baylie Brown is one of this season's many Idol repeat offenders who never broke into the Top 24, well her luck changes tonight and Baylie made it through to sing for your votes. Apparently Cowboy Kermit's real name is Ritchie Law and he was finally exposed for being a fraud, his voice is so bad he's now going to be known as Karaoke Cowboy. His "Ring Of Fire" rendition was so laughble I thought he was spoofing. The judges have finally had enough and he's not advancing.
Heejun Han has been a surprise this entire audition process, not only for his disarmingly soulful voice but for how smart and funny he's been, in a very understated way. He's a clown but has the talent to back it up and not become a Sanjaya. When Heejun goes before the judges to learn his fate JLo said he has a buttery quality to his voice and she's right, it's hard to put my finger on it but he's really special. After hearing he's a lock for Top 24 he proceeds to break into tears and appears inconsolable. It's worth noting that Lee Dewyze and Scotty McCreery had the same reaction and they both won their season. Tht's my fool-proof tactic for deciding who the winner will be.
Jessica Sanchez is another notable talent who makes it, she doesn't have what it takes to go far but she will be fun to watch in the meantime. Phillip Phillips might seem like the typical "White Guy With Guitar" but he's got depth and layers that Kris Allen and Lee DeWyze lacked. Although he does have that same droll, too-laid-back personality, he actually endeared himself to me a bit when he started blubbering like an idiot and begging for a chance when they hadn't even said no. He's through to the next round and look for Phil to go far.
Colton Dixon wasn't even supposed to tryout this season but the judges used his sister's audition time to beg him to try out and tell him how amazing he is and that he was one away from making the Top 12 Boys last season. His sister was cut just shy of Top 42 and he dedicates his final performance of "Fix You" to his little sister, Schyler. This time however he got the yes and is through to the next phase of the competition. Colton does the winner's cry so I'm torn between who will win, my fool-proof method isn't so fool-proof after all apparently.
Brielle Von Hugel made it as far as Hollywood week last season but this year got a second chance and cracked the Top 24. Adam Brock creeps me out and looks like a less handsome Danny McBride (Paul, Superbad), but the judges really dig his "white boy with soul" delivery and added him to the Top 24.
We saw 14 potential American Idols get their tickets tonight and tomorrow will be the conclusion with the remaining 10 given out.
As of right now I see Phillip Phillips, Heejun Han, and Colton Dixon being the top contenders for the Boys' side, while Baylie Brown, and Jen Hirsch as the Girl's top prospects.