We're finally down to our Top 3 finalists vying for that American Idol title and new Ford car not to mention recording contract. None of that guarantees any modicum of success (just ask Lee DeWyze, Kris Allen, Taylor Hicks and Ruben Studdard). Now, now I know they all (except LDW) have had success "in their own way" but they are usually relegated to flash in the pan status. Not winning seems to be where the real prize is with these shows.
In the last two weeks we've said goodbye to Skylar Laine and Hollie Cavanagh who both overstayed their welcomes and will now fade into obscurity where they belong. Joshua Ledet, Jessica Sanchez, and Phillip Phillips are our final three and they will get to participate in Hometown Visits where they go back home and are treated like royalty, thank their family and fans, put on a small show and hope that momentum carries them through the night's 3 song show and onto the Finals.
First thing's first though and Joshua hits the stage with judge Randy Jackson's pick for him "I'd Rather Go Blind" by the spectacular Etta James. This song was slayed by little Rachel Crow on The X Factor but, Joshua did what he always did and while it got screamy, it was mostly beautiful. JLo called him a "throwback" and Randy gave him mad props.
Mariah Carey's "My All" is what JLo picked for Jessica and it's a great fit but, a really big undertaking. It definitely feels like JLo picked a song to watch Jess fail a little because she herself could never touch this song. Randy loved Jessica's same as always delivery and said it was maybe the best Mariah's ever been covered on Idol. Saying much? No. Steven Tyler said he predicts Jessica will be the last one standing next week.
Steven Tyler picks "Beggin" by Madcon for Phillip Phillips because he's bound and determined to pull a melody out of this kid. Phillip does what he always does and did it w-…sorry I dozed off. Next! Steven loved it and said Phillip could be the next Boss and that he hopes he writes his own songs. JLo said something bland and forgettable and Randy Jackson did his "we're at a Phillip Phillips concert, y'all" bit.
At the end of Round One Randy picked Joshua as the winner and JLo and Steven picked Phillip Phillips as the best of round one. I just realized…these three contestants are mini versions of the judges and they picked as such. JLo gave JSan a song she herself could never tackle, Randy gave his mancrush a hot Blues/Soul song and Steven picked a song to show PP he'll never be Crazy Uncle Steven Tyler.
Moving on to the hometown part of the show with clips of the contestants visiting their old stomping grounds and ultimately receiving calls or texts from Jimmy Iovine revealing his pick for their third and final song of the night. Joshua is up first and takes us to Westlake, LA where he is so overwhelmed, sweet and humbled currently he's my favorite, that's how I've picked my winner the last 2 years…by who breaks down and/or seems most genuinely moved by the experience. He's at about a 2 out of 5 on the Humble and Grateful scale so let's see if Jessica and Phillip hold it together or not.
Now we're on to song two for the contestants and this is "Contestants Choice" Joshua is up first again and his pick is "Imagine" by John Lennon which fits in with his uplifting, spiritual thing he has going on and it's definitely beautiful but it leaves me cold. No one can touch David Archuleta's version from Season 7, the year that deplorable David Cook won the competition. JLo said it's like he's preaching while he was singing and that's hard to do. Randy asked him why he chose it and he revealed it's because it's a more dialed back song than he normally sings and it's so powerful and he loves the message.
Jessica Sanchez is next to go home and it's a short helicopter ride from LA to San Diego and her two little brothers were so shy and sweet and happy to see her they made me cry. She went back to the USS Midway where her auditions that sent her to Hollywood were held. Now it's time for Jessica's pick and she's doing "Don't Wanna Miss A Thing" by Aerosmith. While she was dialed back and had a string section behind her it still was missing anything special and missing a connection. The judges will love it but I didn't appreciate her screaming at me. Steven gave her a standing O and told her "You just took a great song and made it greater…beautiful!" JLo said she sent her to the Heavens with her closing note. Randy said "yo" a bunch of times and maybe said something constructive. Probably not.
Phillip Phillips goes home to dinky Leesburg, GA and it's the first time ever he's ever been likable and human to me, he teared up when his dad was talking about how proud he is, he was so good and sweet and broke down due to being overwhelmed on the way to his concert venue. Phillip Phillips just won, mark my words. Now we're on to his performance with the song "Disease" by Matchbox20. I loved the setup with him and his band sitting on trunks and music equipment like they just had an impromptu jam session backstage. To know how Phillip did see all my other critiques of his performances all season. JLo felt bored and not wowed by his performance but said she's excited to see what he has next. Steven said "You don't have the disease, you have the bug man." Randy made it unanimous with not hating it but not loving it, either.
For the contestant's final performances mentor Jimmy Iovine selects what he wants to hear them sing and he gives Joshua the perfect song with Mary J Blige's "No More Drama" he oozed soul, pain and blues all over that song. He was also super shouty which detracted some but, overall he was pretty excellent. Awesome song choice. Randy said "At this point it doesn't matter what you do at this point everyone should just vote for you." JLo said watching he's magic and he "took us to church." Steven loved it and said "it was over the top."
Jimmy chooses "I'll Be There" by Jackson 5 for Jessica and this is not only my favorite song sung by any Jackson but one of my favorite songs on the planet and the way she starts off brought immediate goosebumps to my arms. She's never been my favorite but of the remaining three she's the most polished and most generic which would suit the powers that be at Idol just fine. Steven called it delicious and said it makes him think "Don't bore us, get to the chorus" and JLo said Jess sounded like MJ in spots. Randy said it was "just OK." He wanted a moment and she never delivered.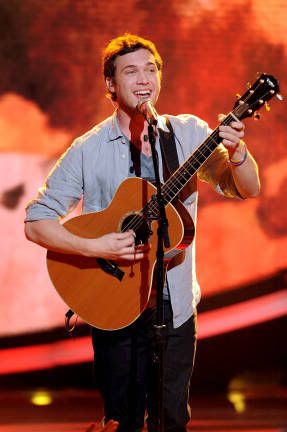 Phillip is closing the show and mentor Jimmy Iovine picks "We've Got Tonight" by Bob Seger and Jimmy thinks this sweet, dark, love song has a melody so great even PP will stick to it. Phillip has me at the first word…no guitar, in front of a piano (not playing just sitting) and it's really good and special. He did a fabulous job. Turns out he can actually sing and it's actually a better voice than his raspy, growly one he normally lays on us. Since his win is inevitable, I'll go ahead and admit I'm about one toe on the PP train. Randy said he did what Jessica failed to do: deliver big at the perfect time and called it his best performance of the season. JLo said it was beautiful and called it a lullaby. Steven said he nailed it and his passion is amazing.
So in true Lee DeWyze style the WGWG (WhiteGuyWithGuitar) torch was passed last night with clinching the evening of top three and he'll slightly tank or be lackluster again for next week's finals but it won't even matter. Joshua will go home tonight and it will be Jessica Sanchez and Phillip Phillips in the Finals with PP bringing the Idol crown home to Georgia. If life were fair it would be Jessica and Joshua in the Finals but America you don't work that way, do you?