Last night's double elimination X Factor episode narrowed the field down to our Top 5 who are still in the running for $5 million and a record deal. Astro and Drew Ryniewicz didn't make the cut but both discussed plans to pursue careers in music even though their run has come to an end. As anyone who reads my X Factor reviews know, I was definitely newly on TeamAstro and was ecstatic to see one-note, whiny Drew leave us at last.
Astro is first up on the two-part confernce call and for the first time since I've been doing these, I actually felt a little pang of sadness when I heard a castoff's voice. The first thing he says to a questioner who thanks him for his time is "thank you for wanting to speak with me." Inevitably the questions are heavily about his infamous temper tantrum. He says he's answered those questions and said all he has to say about it and he only apologizes to his supporters and the hip hop community. He also said no one else needs anymore words from him because that's all negative energy. See why I love this kid?!
He goes on to say he's not surprised to have gotten as far as he did as a rapper and not a singer, that he's more surprised it hasn't happened before now. Astro also briefly touched on his shout out to his girlfriend Molly on the show last night and says it was corny to do it but he couldn't help himself. That's called young love, my friend, and that's just the beginning.
Astro says his inspiration comes from life, supporters, fans, and his love of music in general and that he's already written a song about his elimination last night. He also promises about a song a week on his YouTube channel. He goes on to say Josh's "Dirty Diana" performance was his favorite of the competition so far, and for himself he felt "Lose Yourself" from Movie Week was his best performance and his cleanest in delivery.
Getting a taste of the "celebrity life" has only fueled the fire he says he's had since he was about 9 years-old. When asked about his comments regarding producers putting him in the bottom two to punish him, he said he won't "speak on that" but he is confused how someone can have the most YouTube hits and be the lowest vote getter. It's called your fans didn't vote enough, babydoll.
Astro feels he has set the precedent and paved the path a little for future rap acts to try out for these shows in the future. There was a bit of chaos at the end of the call and it was cut short as he was being pulled away to another interview. I'm hoping against hope something similar happens for the Drew interview.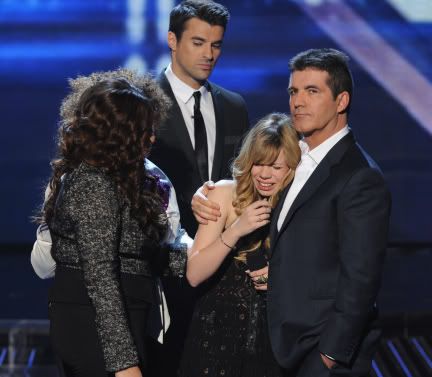 Now on to the Drew call, where she sounds dazed and confused and just really is not a very well-spoken girl, even for the age of 14. Drew says she believes she was not the bottom vote getter between herself and Marcus Canty last night and that her supporters would have surely kept her on.
Despite her Jesus shoutout/outburst directly following her elimination, she is pursuing a secular music career but wants us to know she's always singing for Jesus. Apparently Worthless Host Steve Jones told her he was shocked and astonished by the results when he leaned down and whispered in her ear.
Drew doesn't blame Simon for her being voted off but can't come up with what would be a reason since she feels she had so many votes. Newsflash: you didn't, honey.
Some more tidbits of Drew wisdom were that she's wanted to do an upbeat song for a while but Simon actually insisted she keep it slow. She doesn't think Nicole Scherzinger knew what she was talking about when criticizing her voice, saying it needed more maturing. Her proudest moment was doing Nelly's "Just A Dream" and she's excited to become a recording artist. She reveals she will be writing on her debut album and that she's a terrible song writer. She also says Simon promised he'd make it up to her regarding "failing" her and ultimately getting her sent home; she alluded to him giving her a contract "in a few weeks" time.
So young Drew and Astro are going to continue their pursuit of their dream and I'll be following them on their journey to see if they make it or flame out. Were you sorry to see Astro and Drew voted off, or was it time for them to go?