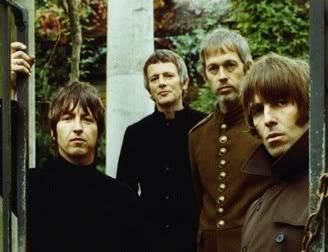 Beady Eye has announced a brief North American tour scheduled for the fall, kicking off in Vancouver in November.
Beady Eye is Liam Gallagher's post-Oasis band, featuring fellow former Oasis members Andy Bell, Gem Archer, and Chris Sharrock. The quartet released their debut album Different Gear, Still Speeding earlier this year and have been playing shows across the UK and throughout Europe in support of the new recod.
Oasis tumultuous run came to an end near the end of their Dig Out Your Soul tour when Liam and his older brother Noel had one final dustup. Beady Eye quickly hit the studio with producer Steve Lilywhite and recorded their debut. Noel Gallagher announced last week he'll release two separate albums in the next year, the first of which is due for release in October.
Oasis had a run of massive worldwide success that diminished in subsequent years and thus far, Beady Eye hasn't made major commercial inroads in the US despite generally positive reviews for their debut. The lack of chart success is probably why this run of dates is so brief, which is disappointing because they're not coming anywhere near me. Milwaukee gets a show but Atlanta doesn't. It's an outrage, really. I'd love to see them.
If Noel Gallagher plans the same sort of tour, though, I may be making my first appearance in Milwaukee since childhood. I've been waiting for that man to make a solo record for 15 years and I'll resort to criminal mischief to get the funds to see him live. I'd prefer he just plays The Ryman, which is probably what God wants, too.
VANCOUVER, COMMODORE BALLROOM – 29TH NOVEMBER
SEATTLE, SHOWBOX MARKET – 30TH NOVEMBER
SAN FRANCISCO, THE WARFIELD – 2ND DECEMBER
LOS ANGELES, WILTERN THEATRE – 3RD DECEMBER
MINNEAPOLIS, FIRST AVENUE – 5TH DECEMBER
MILWAUKEE, THE RAVE BALLROOM – 6TH DECEMBER
WASHINGTON, 9:30 CLUB - 8TH DECEMBER
NEW YORK, TERMINAL 5 - 9TH DECEMBER
BOSTON, HOUSE OF BLUES - 10th DECEMBER