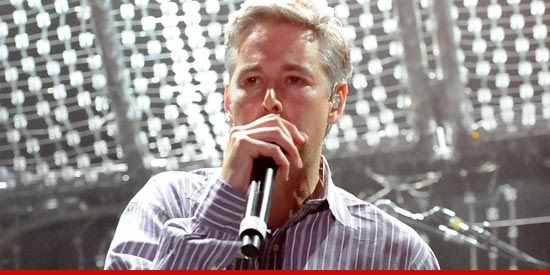 Beastie Boys' Adam Yauch is dead at 47. As I sit here to write this "tribute" of sorts up, I still am in disbelief. Everyone has their "where were you when you heard" moment in their lives regarding national disasters, death of great people and tragic world events. For this one I was walking in my front door when I got the TMZ alert on my BlackBerry that said simply ''Beastie Boys' Adam Yauch dead at 47." I sat down in my big armchair and haven't moved for nearly an hour. Not MCA, not my favorite Beastie, not the reason I got brave enough in my very Southern Baptist world to delve into and cling to the teachings of Tibetan Buddhism, not the raspy voiced man-child who started my lifelong obsession and appreciation of a good gravel and rasp in people's singing and speaking voices. My inner-child was screaming "NO!" at the top of her lungs.
Adam Yauch grew up in Brooklyn, New York as the only child to a painter and architect, as the founding member of the Beastie Boys (who briefly began as a punk-rock outfit with Mike D, Kate Schellenbach (Luscious Jackson, Lunachicks), and John Berry), he emerged as the taller, cooler, raspy-voiced elder statesman of the group. While he was just as raucous and callow as his cohorts Michael Diamond (Mike D) and Adam Horovitz (Ad-Rock) I always got the impression he'd rather be in a coffee shop somewhere reading something that would make a worldwide difference and hitting on Winona Ryder types. And I, of course, fancied myself as a Winona Ryder-type.
Once the haze of sadness and incredulity began to subside the first thing I thought of was my review of what appears to be their final record- Hot Sauce Committee Part Two which was actually postponed since 2009 due to Yauch's battle with cancer. I went to reread it and remembered the fun I had listening to the disc and falling in love with the wily trio all over again for probably the hundredth time. This excerpt sums up my feelings of MCA and how he made me feel while listening and discovering Hot Sauce: "Instead of fighting for their right to party, this go 'round they're encouraging us to "party for our mother f*ckin' right to fight." Age isn't mellowing them in the least, and I for one don't think I'd want to know a mellow, politically correct Beastie Boys. "Make Some Noise" is the leadoff track and nothing makes me smile bigger or feel more comforted than MCA's distinct, gravelly voice commanding our attention and the fact that he's been battling cancer for two years makes the feeling a little warmer and a little fuzzier. He delivers my favorite verse of the entire album and shows us once again how to handle certain people in our lives:
"Pass me the scalpel
I'll make an incision
I'll cut off the part of your brain that does the bitchin'
Put it in formaldehyde and put it in the shelf
And you can show it to your friends and say that's my old self
Let's rewind to 1986 when the Beasties License To Ill was released and in my 11-year old world was an instant hit and an even more an instant unifier. I was living in Columbus, Georgia and while I'll leave out the obvious asides about the political climates of the deep South this was a tape (yes, I said tape!) that every kid, of every creed and color not only carried with them, but had in their Walkmans (Yes, I said Walkman!) and played on repeat in their jamboxes (Boom Box to the non-Southern folks), but talked about, loved and felt connected to. Three white, Jewish kids from Brooklyn made everyone who listened to it feel like they were talking to them personally and related to it immediately. While the trio were sort of the court jesters of rap early on, they quickly worked to change our minds and continuously stretch our imaginations and test the limits moving on to the genius that is Paul's Boutique, to the delightful Hello Nasty, and the more politically aware To The 5 Boroughs.
I could drone on and on about how they changed the face of Hip-Hop –literally and figuratively and made the path for white MC's a little easier to navigate, some we will thank them for, some I will never get over (Snow and Brian Austin Greene, I'm talking to you). But this is about Adam Yauch and while I'm certain he'd be okay with a remembrance of him being solely about his accomplishments with the Beasties, I choose to remember him today as a peace loving, seeking, passionate man whom I hope is leading meditation right now up in Heaven, hand in hand with God while the strains of "Rhymin' and Stealin''' (Ali Baba and the forty thieves!) play over and over in his head as it is in mine. Rest in peace MCA- Namaste and God bless.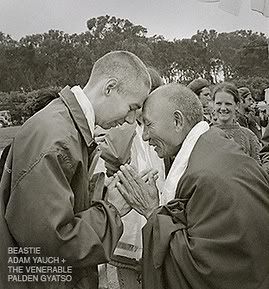 In Buddhism, we speak of touching Nirvana with our own body, In Christianity; you can also touch the Kingdom of God with your body, right here and now. It is much safer than placing our hope in the future. If we cling to the idea of hope in the future, we might not notice the peace and joy that are available in the present moment. The best way to take care of the future is to take care of the present moment.
Thich Nhat Hanh – Buddhist Monk