When one thinks of Queen, the first person he or she usually thinks of is Freddie Mercury. This in spite of the fact that all four members of the band were major forces in their own right, contributing hit songs and, in guitarist Brian May and drummer Roger Taylor's case, the trademark harmonies that enabled Queen to sound like no band before or since. Mercury was one of popular music's best singers and arguably the greatest rock front man to ever grace the stage, effortlessly making crowds of 100,000 seem like intimate shows of 1,000. He was flamboyant, but he had the musical chops to back it up. In short, he was that good. In spite of his public persona however, little is known about the private life of this near recluse. A new documentary, Freddie Mercury – The Great Pretender, attempts to unravel the mystery of one of music's greatest characters.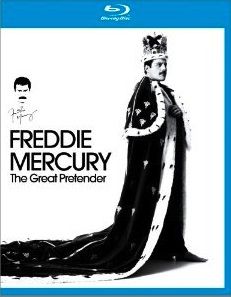 While May and Taylor are interviewed for the documentary, and there certainly are clips of Queen throughout, the focus of The Great Pretender is on Mercury's solo career and his personal life. This is especially evident in the early part of the film where the first decade of Queen's career is glossed over in CliffsNotes fashion to get to the early 1980s and the beginnings of Mercury's solo career. We learn that around the time of the band's final U.S. tour in 1982 for Hot Space that Mercury had become friends with Michael Jackson. We also learn of Mercury's personal manager during that period, Paul Prenter and how, according to May and Taylor, he damaged the band's previously good relationship with U.S. radio. The pair does not mince words in their dislike for Prenter and their hunch proves correct when he later sells Mercury's lifestyle secrets to a British tabloid. The documentary does not delve into the band's decision to top touring the U.S. after that tour any further, but a check online of tour statistics seems to validate May's claims that Prenter hurt the band's radio promotion as the attendance for the latter part of the tour was significantly worse than the beginning. Prenter is also blamed for being a bad influence on Mercury for introducing him to a heavier drug and sex scene. Whether Mercury, an extremely headstrong man by anyone's estimate, could be swayed that easily by one man is a matter of opinion.
We get to hear a brief snippet of Mercury and Jackson duetting on "There Must Be More To Life Than This," a track that ended up on Mercury's Mr. Bad Guy album, albeit without Jackson. While a version with just Jackson singing has circulated in the bootleg world for some time, this is the first time the pair has been heard together. Mercury laments in one interview that he could have had a song on Thriller had he finished it in time. In addition, a clip of "Let Me Live" featuring Rod Stewart is briefly played in the documentary. The track would later appear on Queen's Made in Heaven, sans Stewart.
While at a performance by Luciano Pavarotti, Mercury was impressed by the tenor's vocals, but the person he was most impressed by was the soprano, Montserrat Caballé. At once he decided that he had heard the best singer in the world and that he had to work with her. To Mercury's surprise, he received a phone call from her around Christmas 1986 and he left with Mike Moran, who he had worked with previously on Time, to go to Barcelona to present her some music. The pair ended up working together on the album Barcelona, which Mercury considered to be perhaps his most important work. This was partially because he felt he had something to prove after the failure of Mr. Bad Guy, but also because he had been diagnosed with HIV and knew his days were numbered. The critics didn't know what to make of it and Pavarotti claimed they were "dumbing down opera," but the album has stood up as one of Mercury's most significant works.
While there are no interviews with Mary Austin, the woman Mercury lived with for much of the 1970s and who inherited much of his fortune, there are interviews with Jim Hutton, Mercury's last male partner. The documentary stays away from the more scandalous aspects of the singer's life, even commenting on how he had grown wary of the rock and roll lifestyle by the mid 1980s.
The Blu-ray is presented in 1080i high definition widescreen 16x9 (1.78:1) with LPCM Stereo audio. Many of the clips in the documentary are archival, so the quality varies, but none of it looks bad and the recent interviews all look great. Bonus features include extended interviews with Mercury and Caballé, as well as a making of Barcelona 2012 featurette.
Not much is known about the personal life of Freddie Mercury. The Great Pretender attempts to paint a portrait of an individual who had a very extroverted public persona, but in reality was equally introverted in his private life. While the story may not be new to diehards, there is enough in the way of rare and unreleased audio and video to keep even the biggest Mercury fans happy. Mercury made Queen's manager, Jim Beach, vow to never make him boring after he passed. Freddie Mercury – The Great Pretender shows the singer as interesting as ever, now more than two decades after his death.