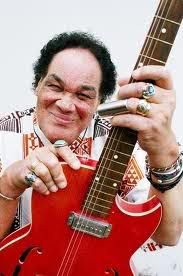 2011 was an incredibly painful year for blues fans as we said farewell to legends like Pinetop Perkins, Willie "Big Eyes" Smith, David "Honeyboy" Edwards, and the great Hubert Sumlin and 2012 has gotten off to an equally sad start as we bid farewell to Etta James and today we learn that Iverson "Louisiana Red" Minter has died at age 79.
Many bluesmen have harrowing biographies that foreshadowned their lives as itinerant musicians rambling from place to place, making their blues wherever they could find a nickel or a quarter. Even with all those tales -- some legendary, some real -- Louisiana Red had a childhood that may have topped them all with his mother dying during childbirth and his father being lynched by the Ku Klux Klan.
Red shuffled from place to place, living with relatives and he became a first-rate blues player who rubbed shoulders with all the greats throughout his life and recorded more than 50 records over the course of his remarkable career. At some point -- dates are a bit fuzzy on this -- he relocated from the US to Germany, where he spent most of his later years. He'd tour the US and around the world but made Germany his home. I never read it said that his early childhood horror had anything to do with it but it's hard to imagine ever getting to a place where America could feel like home when you start with the murder of your father and Jim Crow/segregation into your adulthood. Maybe he just liked Germany better. I'm not here to put words in the man's mouth but to praise him as a great, talented, beloved musician.
I was privileged enough to see Red perform at the 2010 Blues Music Awards, where he picked multiple trophies for his collaboration with David Maxwell (he was also nominated for his work with Little Victor's Juke Joint, Back To The Black Bayou). The one time during the ceremony I might have had a chance to meet him, he was swarmed by many other fans and Red smiled graciously as he was greeted by them. I decided to let the man be, have his moment, and left him to the horde. It was still an unforgettable moment.
While in Memphis for those awards, he recorded what will likely be his final album Memphis Mojo, again with Little Victor, David Maxwell, Bob Corritore, and many others. Red's music reflects the extraordinary life he led and his varied experiences. He never lost his connection to it and continued to channel those deep blues into his words, vocals, and playing. There was only one Louisiana Red. We miss him.