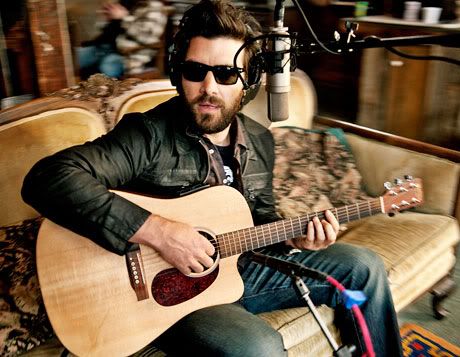 Austin, Texas's Bob Schneider just might be the hardest working man in rock and roll. At least that's my short and sweet assessment after seeing him deliver a blistering set last night at Skipper's Smokehouse in Tampa. Known for not making set lists but rather calling the songs he wants to play next to the band, every Bob show is a unique experience. And Bob has clearly shown up to entertain. He's not only juBob mping from instrument to instrument (guitar, keyboard, trumpet) he's also jumping from genre to genre. From a jazz-funk infused version of "Bullets," to the growling rock anthem "I'm Good Now," to a Latin inspire "Bombananza." The entire show is a melting mixture of music, all tied together by Bob's gravely croon.
And while I've seen him at several venues, I have to say Skipper's is my favorite place to see him (which is why I passed up his gig 10 minutes from my house Thursday night to drive 2 hours to Tampa to see the show last night). The view of the sky thanks to the outdoor venue, combined with the sweet glistening lights in the overhead oak trees, makes for the perfect backdrop to watch Bob be Bob. He's not only playing a variety of styles of music, he's also re-engineering some of his older songs to share them with the audience in a unique new way.
While I don't have the set list for you, I will say that aside from the above songs mentioned other highlights were "Big Blue Sea," "40 Dogs," "Piggyback," "Metal and Steel" and a version of "Tarantula" that had the entire venue singing along. The set list in it's totality included tracks from Bob's 2000 record Lonelyland, 2004's I'm Good Now, and his 2009's Lovely Creatures, and of course songs from his new record A Perfect Day. In 2009 Bob also released a double live disk Live at the Paramount Theatre, which I promptly purchased in my post-Bob depression after the show was over last night.
Aside from his solo work, Bob has been the frontman to three bands (Joe Rockhead, the Scabs, and Ugly Americans). For his solo work alone he's received over 24 Austin Music Awards. He's known for consistently performing around Austin when he's not on the road - something we don't see much from musicians and something that I think speaks to his love of entertaining.
Bottom line: this was my fourth Bob Schneider show, and most certainly not my last. The venue was perfect, the audience was fun, and Bob was there to make sure we all (himself included) had a great time. If you see Bob playing in your town, I highly recommend checking him out.