Booker T & The MGs' legendary album Green Onions has been remastered by Joe Tarantino and will be reissued in conjunction with its 50th Anniversary as part of the ongoing Stax Remasters Series on July 24.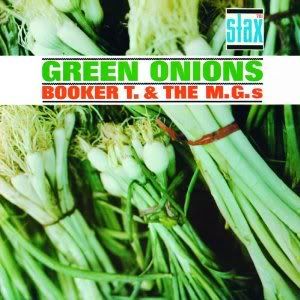 How great and deep is the mighty Stax library that Green Onions wasn't among the earliest albums to be remastered, expanded, and reissued? The title track has been inducted into the Grammy Hall of Fame and included in the Library of Congress' National Recording Registry. Everybody knows this song even if you don't know you know it (which was the case for me for years and years).
Green Onions will be reissued with the 12 original tracks recorded by organist Booker T. Jones, guitarist Steve Cropper, bassist Lewis Steinberg, and drummer Al Jackson Jr. In addition to the legendary title track, the album boasts classic versions of "Twist and Shout" and Ray Charles' "I Got A Woman."
The two bonus tracks on the record include live performances of the title track and "Can't Sit Down" recorded in 1965. The live tracks feature the late, legendary Stax bassist Donald "Duck" Dunn and Packy Axton adds saxophone on "Can't Sit Down."
The Stax Remasters already reissued the band's brilliant re-imagining of Bealtes' classics, McLemore Avenue. Earlier titles in the series also include Rufus Thomas' Do The Funky Chicken, Shirley Brown's Woman To Woman, Albert King's I'll Play The Blues For You, The Staples Singers' Be Altitude: Respect Yourself and Johnnie Taylor's Taylored In Silk.
Booker T. Jones continues to make records, his most recent being The Road From Memphis released in 2011.