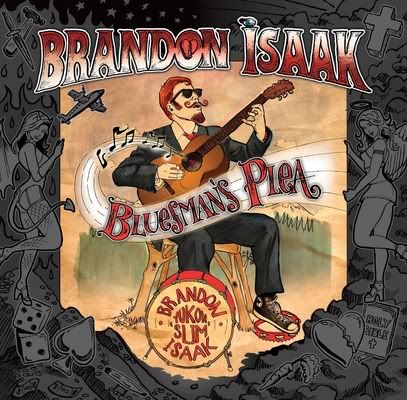 The notion of an intinerant bluesman, guitar slung across his back as he travels dusty roads and plays for his supper, is quaintly out-of-date. Yet Bluesman's Plea, the first solo outing from Brandon Isaak, frequently conjures just such an image.
Isaak, usually found fronting Vancouver-based jump-blues band The Twisters, is largely on his own with Bluesman's Plea, and instrumentation is primarily acoustic. There's nothing quaint or dated about Isaak's music, though. An all-original collection (eleven songs, with three 'bonus' cuts), there are enough 'modern' touches, courtesy of producer, engineer, drummer (oh, and younger brother, too) Chris Isaak, to keep this from a stroll down memory lane.
The title track kicks things off, with Isaak's acoustic guitar, shimmery slide, and faint foot-stomps giving it a classic pre-war sound that seems snatched from the dustbin of history. But Isaak quickly picks up the pace with You Gotta Pray, contributing bass as well as chiming guitars to a tune with an obvious gospel pedigree and a jaunty groove, proving he's equally adept on either side of the sacred/profane divide. There are hints of country, too, and traces of ragtime here and there. Yet while Isaak borrows a bit for his song structures (a few songs sound vaguely familiar, notably Ain't No Pleasin' You, reminiscent of Just Because, a once-upon-a-time hit for Elvis), they're all, as the liner notes state, "true stories about love, life, and death."
Chris' production is most evident on three tracks that feature 'found sound.' Hard Workin' Woman begins with a voice-over recording of airplane boarding instructions, and quickly becomes a lament for the titular hard-working woman whose business travels keep her away from home more than Isaak would like. Take My Message includes a brief snippet of an old-time, fire-and-brimstone sermon, while A Little Wine includes with muffled news reports and moody background effects that lend the tune an eery, vaguely claustrophobic air – it's unsettling and arguably a bit out of place on the set list, but as a cautionary tale – how quickly 'a little wine' becomes too much wine – it works just fine.
For the most part, though, the feel is fairly sunny. Chris Isaak's drums are unobtrusive in the extreme, adding a minimal bit of rhythmic drive while never drawing attention away from Brandon's fleet and agile picking. And the elder Isaak proves a fine singer indeed, with just a hint of a growl on occasion that adds a welcome touch of grit. He also adds harmonica to a track, though it's pretty rudimentary and primarily for effect.
Above all, Isaak comes accross as relaxed and thoroughly comfortable – these are, after all, his songs, and he inhabits them as though they're simply a part of his DNA. His delivery is effortlessly honest and candidly intimate, the easy-going sound of an old friend singing songs simply because they satisfy his own soul.
The results make for riveting listening. This is good stuff …