Ever find yourself listening to an album for the first time and coming away with a feeling completely different from what you were expecting? Thanks to the mouthbreathers over on the notorious Bruce Springsteen site Backstreets – Michael Stipe's quip, 'this is why the Internet sucks' comes to mind – I was caught off-guard early Tuesday morning when I slid Wrecking Ball into my car's CD player for the first time.
In the aftermath of the release of the lead single and opening track "We Take Care Of Our Own," the seemingly unavoidable leak of the entire album occurred, and, perhaps in response, Springsteen allowed various tracks to be streamed from the aforementioned BTX and other sources in the lead up to today's official release date.
Given that I don't buy many new albums anymore, I decided to keep my ears pure for the official release date. Before today, I had only heard "We Take Care Of Our Own" twice in its entirety, and the previously released title cut "Wrecking Ball" and "Land Of Hope And Dreams" before today (albeit in live versions and not the versions recorded for this album).
So, back to be preconceived notions. Coming into today, words like 'angry,' 'scathing' and 'political' had been used to describe the mood of Wrecking Ball, sometimes by Springsteen's camp itself. After a good two listens, those aren't the words I take away. Instead, I would offer 'defiant,' 'relentless,' 'determined' and 'proud' as my adjectives of choice.
"We Take Care of Our Own" comes on as a bit of a continuation of the thread Springsteen started long ago but most vividly addressed on 2007's Magic. Here, the Boss walks the tightrope between offering his honest take on the State of the Union from the perspective of a proud-yet-perplexed American and pissing off the 'love it or leave it' crowd. As I listen to "We Take Care of Our Own," I can't help being reminded of "Long Walk Home," a highlight from the Iraq War-weary Magic LP that attempts to draw a line in the sand of 'this is what America does, this is what is doesn't do, and this is who we are.' So who are the 'our own' Bruce is speaking of? Americans? Those who live and work on American soil? Anyone around the world putting their ass on the line for a chance at freedom? Probably all of the above, and I don't see that as a political statement. Maybe I am splitting from the pre-album buzz already.
As a song itself, "We Take Care Of Our Own," is the most obvious Springsteen song on Wrecking Ball. You won't believe it, but no, that isn't the Dean of Musical Perversity Roy Bittan on keyboards. Really. Truly. Anywhere on the record. In fact, of E-Street Band members, only Patti Scialfa and Soozie Tyrell are present throughout the record, and Max Weinberg and the late Clarence Clemons appear only on two tracks.
The rest of the record is a musical grab-bag, one pre-release prediction that proved true. Bruce winds his way between folk, Americana, electronica, and gospel, while thankfully steering clear of soul after the 2009 pop clunker Working On A Dream, easily the weakest album in Springteen's catalog. No one can criticize the 11 songs on Wrecking Ball for lacking musical ambition or being too monochromatic, but Springsteen came up a little light lyrically in a few places.
As others have lamented, Bruce regrettably chooses to rhyme 'balls' with 'ball' in the otherwise solid "Wrecking Ball." I want to like this song more than I do, as I get off on Bruce's defiant refusal to go quietly into the night despite his age, but I am distracted by the heavy-handed references to the razing of old Giants Stadium in New Jersey throughout the song. I also would have much-preferred the song build to a guitar-driven crescendo rather than the Seeger Sessions-esque, tub-thumping climax. Other cringe-worthy moments are the heroic coupling of 'hat' and 'cat' on the "Atlantic City" knock-off "Easy Money," which easily is the worst song on this album, and I consider myself a person who likes both hats and cats.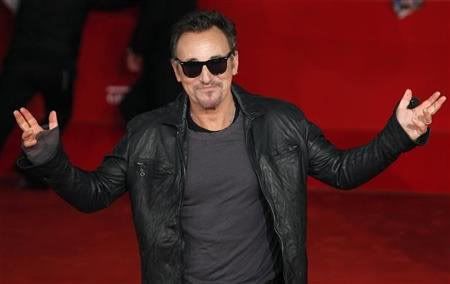 Highlights – and there are plenty to be found – include the back-to-back-to-back trio of "Shackled And Drawn," which comes on like a modern-day spiritual, "Jack Of All Trades," which finds its protagonist torn between Jesus' concept of justice and his own need for immediate vindication and "Death To My Hometown," the album's harshest moment. Here, the angry Bruce is manifested, and robber barons had best beware.
None of this is, of course, new ground for Springsteen. 1982's Nebraska and 1995's The Ghost of Tom Joad – with their tales of empty or unattainable mansions and migrant workers killed in meth labs -- make Wrecking Ball sound like carnival music in comparison. And to those who like to point to Springsteen's left-of-center politics, I would like to point out Joad was released during President Bill Clinton's first term, so Bruce is not quite as selective in his criticisms as some might want to believe.
No matter how bleak the future may be, what would a Springsteen album be without a little hope thrown in for good measure? Nebraska and Joad certainly had their moments, and Wrecking Ball carries on the tradition. Cue "Land of Hope And Dreams," debuted on the Reunion Tour back in 1999 and common staple of live sets since. Here, the driving riffs take a backdrop to an electronic 'thump' that carries the song, while what will likely be the final Big Man solo on a new Springsteen album sounds as sweet as ever.
For all the supposed political bile this album was to have packed, the lines from "Land Of Hope And Dream' ring the most true:
This train, carries saints and sinners
This train, carries losers and winners
This train, carries fools carries kings
This train, carries lost souls
This train, dreams will not be thwarted
This train, faith will be rewarded
This train, hear the big wheels singing
This train, bells of freedom ring
If that doesn't light your fire, your wood is probably wet, and you probably won't get half the record anyway.
Wrecking Ball isn't in the top half of the albums from Springsteen's storied, 40-year career, but with a catalog that pales to only that Bob Dylan in depth, it doesn't have to be to merit a listen. I have no doubt some of these songs will sound terrific when Bruce and the 35 members of the modern-day E-Street Band hit the road in a couple of weeks. Let's just hope the clunkers get left behind.