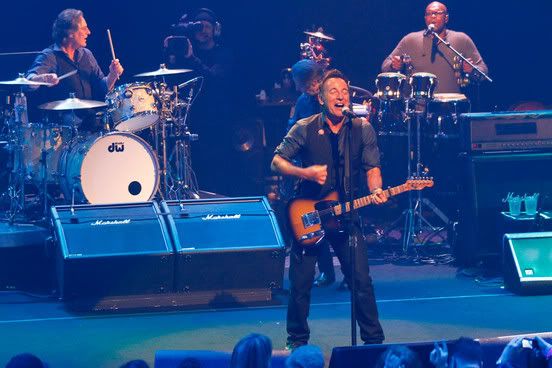 It's the last night in Germany for Bruce Springsteen & The E Street Band and the big story in Berlin tonight is the tour premiere of "Save My Love," first officially released on the 2-CD The Promise released as part of the Darkness On The Edge Of Townreissue. Little Steve Van Zandt has been swearing up and down songs from The Promise would be played on the Wrecking Ball tour but they have been scarce. We got one tonight and it's among my favorites from that set. Here's to hoping there's more where that came from…
The show opened with "When I Leave Berlin," apparently a cover of a Wizz Jones song. Ahhh… every famous city has a song and every band has to play that song when they come through. I live in Alabama and I want a state law passed prohibiting anyone including Lynyrd Skynyrd from playing "Sweet Home Alabama" in my presence. My friends in Chicago want an injunction against "Sweet Home Chicago." I wonder if the folks in Berlin are over "When I Leave Berlin."
The rest of the setlist follows the basic shell of recent shows. I'm not saying that dismissively (merely stating the obvious). The Apollo Medley seems to have largely disappeared of late but another cover is taking its place somewhere in the setlist, tonight it's "Seven Nights To Rock" (again) in the encore.
Tonight's Berlin show was the last in Germany. The band heads back to Spain for what seems like the 11th time (they've played more shows in Spain than they have west of the Mississippi on this tour) and then it's on to Portugal and Italy.
When I Leave Berlin (Wizz Jones cover)
We Take Care of Our Own
Wrecking Ball
Badlands
Death To My Hometown
My City Of Ruins
Spirit In The Night
Hungry Heart (Sign)
Trapped (Sign)
Jack Of All Trades
Youngstown
Johnny 99
Working On The Highway
Shackled A Drawn
Waiting on a Sunny Day
Save My Love
The River
The Rising
Lonesome Day
We Are Alive
Thunder Road
### ### ###
Rocky Ground
Born in the USA
Born to Run
Glory Days
Seven Nights to Rock
Dancing in the Dark
Tenth Avenue Freeze-Out