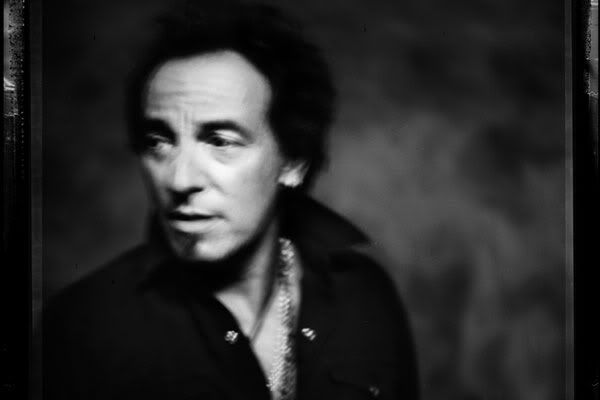 Expect the unexpected- that's the lesson for those in attendance at Bruce Springsteen's second and final Los Angeles concert on this first leg of the Wrecking Ball World Tour. Oh, and it never hurts to get to a show a little early.
The E Street Band got a late start to the show tonight but that doesn't mean there wasn't some pregame excitement. I don't know the last time Springsteen had an opening act but he did tonight: Bruce Springsteen. For reasons unknown, he came out about a half hour before the listed start time of 8:00 pm and played a solo acoustic "For You." I heard him do that one solo piano in St. Louis on the Working On A Dream tour. It's a nice treat indeed.
The show itself kicked off at about 8:45 when most nights the band gets going at about 8:20, and they opened the show with the tour premiere of "No Surrender." The joy of the pre-show gift would have been quickly forgotten with the opening notes of this song I can't seem to avoid whenever I go to a show. I can tell you why it took until this late in the tour to get played: I haven't seen him yet.
The highlights have to be the acoustic surprise "opener" and rarities "Does This Bus Stop At 82nd Street?" and "Racing In The Street," both of which have surfaced a couple times on the tour but neither are regulars.
The low point is once again doing the 1-2 of "The Rising" and "Lonesome Day" as he did last night. For starters, "Lonesome Day" needs a rest, period. Putting that aside as I'm sure some of you disagree, my issue is doing that on back-to-back nights in the same venue. He's used the spot before or after "The Rising" to occasionally play something rare or special like "Because The Night" or "Backstreets." Not only does he play an overplayed song on the first night of the stand, he plays the same overplayed song the next night. He doesn't give up anything special in the spot. This is weak, lazy, unimaginative. Once is unforgivable, twice is a warcrime.
We've had the good and the bad and now we have the ugly: "Bobby Jean" in the encore. Forty years of music and the man plays one of about three songs that wasn't a hit single from the biggest-selling album of his career in the encore. The song is a turd and so is he.
The second night of a 2-night stand is usually something to behold and tonight is no exception, in the opposite direction. Neither LA show had anything particularly special with the no tour premieres in night one and the tour premieres tonight being "No Surrender" and "Bobby Jean." Brutal.
Bruce Springsteen & The E Street Band
Los Angeles, CA
April 27, 2012
For You (Solo Acoustic)*
### ### ###
No Surrender*
We Take Care Of Our Own
Wrecking Ball
Badlands
Death To My Hometown (feat. Tom Morello)
My City Of Ruins
Does This Bus Stop At 82nd Street?
Jack Of All Trades (feat. Tom Morello)
Youngstown
Prove It All Night
Darkness On The Edge Of Town
Easy Money
Waiting On A Sunny Day
Apollo Medley
Racing In The Street
The Rising
Lonesome Day
We Are Alive
The Ghost Of Tom Joad
Land Of Hopes And Dreams
### ### ###
Rocky Ground
Bobby Jean
Born To Run
Dancing In The Dark
Tenth Avenue Freeze Out