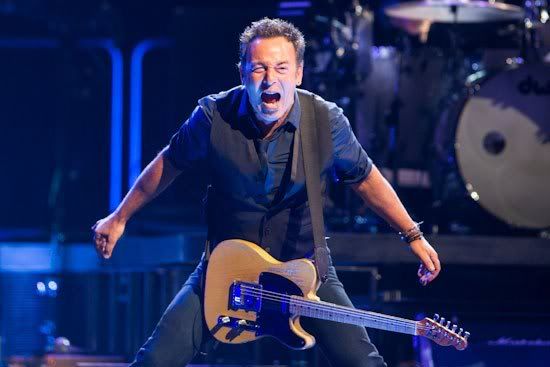 Bruce Springsteen treated the Barcelona fans to an epic, marathon 29-song set tonight as his Wrecking Ball tour heads continues its European trek. The 29-song show tonight is by far the longest of the tour and included two tour premieres and one big surprise.
The first half of the set felt like a mashup of the current tour and the Reunion Tour from 1999-00 with songs like "Youngstown," "Murder, Inc" and tonight's tour premiere of "You Can Look (But You Better Not Touch)" all played in close proximity to one another. The length of the show actually harkens back to those days but that's where the comparisons end because this was, once again, every bit the stadium show you've come to expect from the E Street Band since 1984…
Except…
"Prove It All Night' has been a setlist standard since it was released on Darkness On The Edge Of Town but it hasn't been performed the same way as when it was released for lo these many years… until tonight. I don't know the last time "Prove It" was preceded by the mythical '78 intro but Barcelona got it tonight and Springsteen fans around the internet are green with envy. The other tour premiere was "Hungry Heart" and last night's premieres of "The River" and "Born In The USA" remained in the set. Another rare fan favorite "Talk To Me" was thrown into the mix tonight, too.
I'd tell fans calling this the best setlist ever to tap the breaks as it was still awfully heavy on warhorses that have been played to death the two tour premieres tonight aren't exactly rare but the '78 intro into the also-not-rare "Prove It" and "Talk To Me" are a couple of nice treats mixed in with songs from the new album and the stadium staples from BITUSA. I think I'd prefer the slightly shorter but more imaginative Newark set to this one, but this would have been a good one to see.
Badlands
We Take Care of Our Own
Wrecking Ball
No Surrender
Death to My Hometown
My City of Ruins
Out in the Street
Talk to Me
Jack of All Trades
Youngstown
Murder Incorporated
Johnny 99
You Can Look (But You Better Not Touch)
She's the One
Shackled and Drawn
Waitin' On a Sunny Day
The Promised Land
The River
Prove It All Night (w/78 Intro)
Hungry Heart
The Rising
We Are Alive
Thunder Road
### ### ###
Rocky Ground
Born in the U.S.A.
Born to Run
Bobby Jean
Dancing in the Dark
Tenth Avenue Freeze-Out