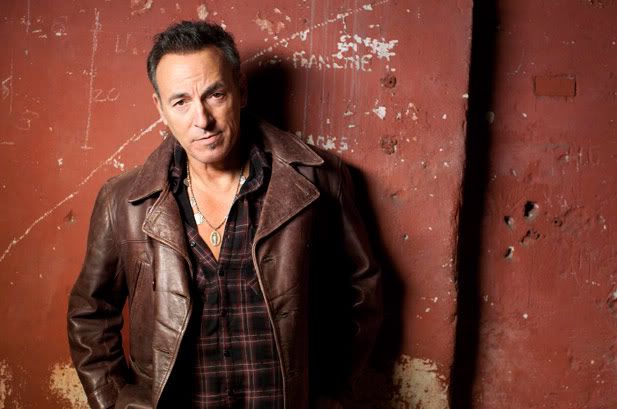 Have you ever experienced a situation where you see a proverbial trainwreck about to happen in front of your eyes and you're powerless to stop it? I knew what to expect from Bruce Springsteen's set at the New Orleans Jazz Fest and I was right… only it was worse than I anticipated.
Springsteen took a day off from pimping his latest album Wrecking Ball and got into his WayBackMachine. That's good news, right? Wrong. This WayBackMachine didn't take him further back than 2006's Seeger Sessions Band record.
I figured he'd play "How Can A Poor Man Stand Such Times And Live?" because of the Hurricane Katrina reference and this being in New Orleans but didn't expect so many others. I liked it well enough when it was released but it's not something I've revisited since and he winds up playing as many songs from it as he did WB and of course he did a duet with Dr. John (I guess Harry Connick Jr. and the Neville Brothers were unavailable). I don't know if NOLA residents are as tired of every act that comes to town thinking they need to play "When The Saints Go Marching In" as Alabama residents are of "Sweet Home Alabama" covers but yes, The E Street Band played a snippet of that as well.
Predictable. Not at all the show I would have wanted but it was a festival one off. We've got Newark, NJ and that's it for the first N. American leg of the Wrecking Ball tour. Detroit is still the Setlist King and I this unseats Atlanta for the cellar.
Bruce Springsteen & The E Street Band
New Orleans, LA New Orleans Jazz & Heritage Festival
April 29, 2012
Badlands
We Take Care Of Our Own
Wrecking Ball
Out In The Street
Death To My Hometown
My City Of Ruins
How Can A Poor Man Stand Such Times And Live
Jack Of All Trades
Something You Got (Feat. Dr. John)
Oh Mary Don't You Weep
Prove It All Night
Johnny 99
Waiting On A Sunny Day
The Promised Land
The Rising
Lonesome Day
We Are Alive
Land Of Hope And Dreams
Pay Me My Money Down
Born To Run
Dancing In The Dark
Rocky Ground/When The Saints Go Marching In
Tenth Avenue Freeze Out