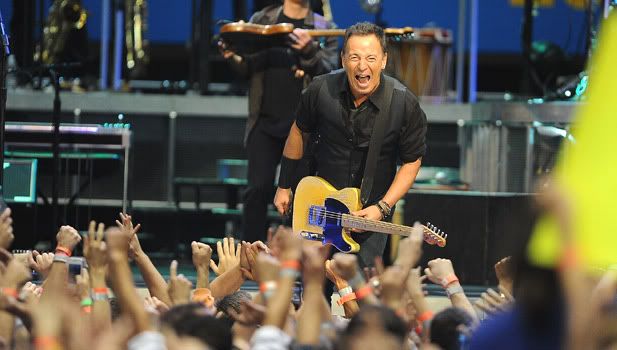 The E Street Band look to rebound from calamity in Cologne with their headlining set at the Pinkpop Festival in Landgraaf, Netherlands tonight. This set being part of a festival, it comes in several songs lighter than recent stadium shows on the European leg of the tour.
It's too much to expect a complete recovery, then, from last night's debacle but it's a step in the right direction. This abbreviated set actually improves on things because they didn't play the turds; it was addition by subtraction.
Not only that but look at this stretch: "Spirit In The Night," "Because The Night," and "Radio Nowhere." That's mighty! Look at just before and just after them: "My City Of Ruins" and "I'm On Fire" (the latter being a tour premiere). It's hard to imagine how much energy came out of the place after fiery "Because The Night" and "Radio Nowhere" down to "I'm On Fire," but it's one of the songs on Born In The USA that doesn't make me cringe.
This being a festival and Bruce being a man of the people, there were guest musicians who came out to hang with the band during the encore. Amazingly, you can get more people on stage with the E Street Band and the E Street sideshow! Garland Jeffreys joined them for a rendition of "96 Tears," a cover they played when I saw them in Atlanta on the Working On A Dream tour.
The other guest tonight was Mumford and Sons, who joined the band on "Hungry Heart." I'm actually curious what that sounded like. I wonder if they changed up the arrangement or the harmonies to include the Mumfords or if it was played straight.
In addition to "96 Tears" and "Hungry Heart," the encore included the now familiar run of "Born In The USA," "Born To Run," and "Dancing In The Dark." That asshole fan in Cologne may have done us all the greatest disservice of all by encouraging Bruce to start playing "American Land" again. There really is no justice in this world if that individual is not found and tried in The Hague for crimes against humanity.
Here is the full setlist for Bruce Springsteen & The E Street Band at the Pinkpop Festival, featuring special guests Garland Jeffreys and Mumford & Sons.
We Take Care Of Our Own
Wrecking Ball
Badlands
Death To My Hometown
My City Of Ruins
Spirit In the Night
Because The Night
Radio Nowhere
I'm On Fire
Shackled & Drawn
Waitin' On A Sunny Day
The Promised Land
The River
The Rising
We Are Alive
Thunder Road
### ### ###
96 Tears [with Garland Jeffreys]
Born In The U.S.A
Born to Run
Hungry Heart (w/Mumford and Sons)
Dancing in the Dark
American Land
Tenth Avenue Freeze-out