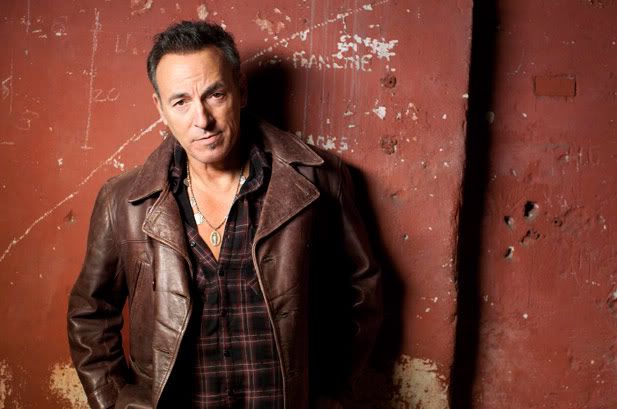 "Death To My Hometown" has been a staple of Bruce Springsteen & The E Street Band's Wrecking Ball tour and we now have an official video for the song. I'm not in love with the Wrecking Ball record and "Death To My Hometown" is awash in many of the characteristics that left me cold, leaving me to walk the fine line between revisiting a conversation I started last month and merely piling on.
The video is montage of the E Street Band performing the song from various venues and/or soundstages and that's fine, although it might have been interesting to see visuals that reflect the song's theme. All one would need is footage of the Occupy Wall Street rallies and pictures of Bernie Madoff.
The footage finds our friend Little Steven Van Zandt looking just as confused as ever, his priceless facial expression making us wonder if he knows he's on stage or being filmed. There's also a cameo from former Rage Against The Machine guitarist Tom Morello, who recorded a guitar solo for the track. Just as you can count on Stevie to look just a little endearingly lost, you can expect Morello to strike that familiar stomping strut no matter what he's playing.
The song is a Celtic-punk hybrid filtered through the familiar sound of the E Street Band. I know some friends who love this juxtaposition- I'm not one of them. The E Street Band has a recognizable sound but doesn't sound today the way it did when it was formed 40 years ago. They've grown, changed, and learned. They've incorporated new sounds along the way and abandoned some that fell out of favor. Through it all, they've maintained a core identity uniquely theirs. These new musical elements are fused with that core about as subtly as Springsteen makes his point in the lyrics. Again, some people love the palpable anger and outrage. I understand it but prefer the more thoughtful side of The Boss' songwriting.
Morello's guitar solo, near the end of the song, is tame by his standards but injects the song with some of the anarchic energy of the lyrics- something Nils Lofgren could have provided if Bruce had thought to call him but that's a story for another day.
If you're catching the band on tour, there's a good chance you're going to hear this one so check out the video and familiarize yourself with it.