The plight of the working man and his struggle for dignity and the distance between the American Dream and its reality have been mainstays in the Springsteen songbook, so no one should be terribly surprised that the housing crisis that sank the American economy in 2008 and the Occupy Wall Street movement that erupted in 2011 would inspire a new batch of songs, and it did. Sort of.
I couldn't help noticing how many of the songs of Wrecking Ball I already knew when the tracklisting was announced even though they'd never been released on a Springsteen studio album. The title track, "American Land," and "Land Of Hopes And Dreams" had all been part of Springsteen live shows. I'd head approximately 1/3 of the record by the time he released "We Take Care Of Our Own" as the first single. Let's deal first with these known quantities.
The album opens with the first single "We Take Care Of Our Own" and the first time I listened to it, I was both pleased and bored because it sounds exactly like a Bruce Springsteen song. I can't prove it but the music from this one feels like a Born In The U.S.A. outtake and the half the words could have been written then with a few updates.
I decided I was being an asshole about this sounding like the E Street Band by numbers because after I took the record in as a whole, I was struck by how rarely that sound surfaced. I'm all for artists experimenting and incorporating new and different sounds and ideas but he fell in love with a sonic identity on this record somewhere between the Dropkick Murphys and the Seeger Sessions Band he helmed in 2006 and the songs are rarely better for it.
"We Take Care" grew on me a lot by the second or third listen because I like Springsteen anthems. I wonder if I'd like it as much on a stronger album but it strikes tones of anger and resolve, serving as a reminder that at our best America is a special place with a generosity of spirit that has achieved great things yet far too often we've neglected those higher ideals and left one another behind.
The first time I heard "Wrecking Ball" was in St. Louis on the Working On A Dream tour and there are a few things that stood out to me about it at that time. The first was the shock and horror I felt when I realized he rhymed "balls" and "ball." I wanted to hurl a brick at him, send him back to his notebook to fix it, and ask him to come back out and try again. I also found myself perplexed, wondering why he was singing a song in St. Louis that seemed to be tied to the demolition of the old Meadowlands Stadium in New Jersey, soon to be replaced by a newer model.
I was right about that last bit but I'm wrong now, if that makes sense. "Wrecking Ball" seemed out of place then but fits well with the themes of this record and I've become quite attached to it (though I still cringe that he rhymes "balls" and "ball").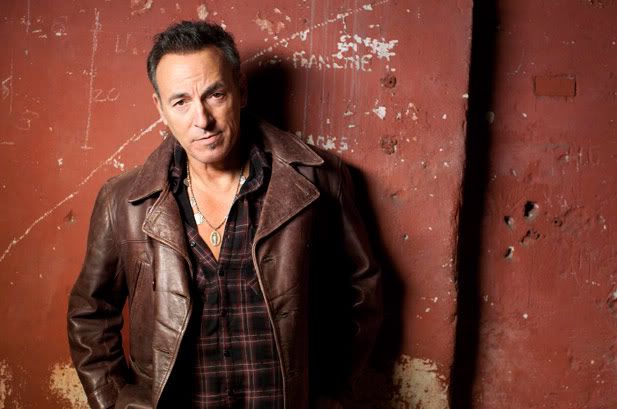 My greatest curiosity about all these new recordings of familiar songs was "Land Of Hopes And Dreams," it being a song I've loved since I first heard it when it was released on Live in NYC, a double-live album commemorating the E Street Band reunion tour in 1999-2000. It is a great song but the version presented here has been robbed of much of its vitality and anthemic power as pieces of "People Get Ready" are interspersed into a song whose gospel of redemption rang clear and true. This recording and arrangement is acceptable but pales in comparison to its live predecessor.
What really diminishes "LOHAD" is something that happens throughout Wrecking Ball: a reliance and prevalence of drum loops and electronic percussion. The E Street Band is uniquely constructed, their canon filled with roaring anthems, and it's all built around the Big Beat. The power station of that Big Beat is the power and precision of master drummer Max Weinberg. His thunder has not been replaced but it has been muted and that's a shame on an earnest protest record yearning to carry the quiet hopes and desperation of a hurting people.
I wasn't at all curious about "American Land" because I heard each of the six times I saw him on the Magic and WOAD tours and by the second time I heard it, I realized what I was really hearing was "There Are No Cats In America" from An American Tail, only Feivel's dad had a better song. I get what he's trying to say and that he's trying to do it in a celebratory, declamatory manner but it's pandering and trite.
"This Depression" is the best of the new songs and feels like something he could have written for the beautiful The Ghost Of Tom Joad. Weinberg's minimalist drumming and backbeat are powerful and create the heartbeat Springsteen sings about, "in this depression, I need your heart." He goes beyond the rage at the powerful and corrupt and gives voice to the shattered dreams and anguish of those suffering in these hard times.
Whose heart does our protagonist seek? Is it the heart of a lover with whom he can share and build a dream if only given a fair shake? Is he looking above to the heavens, beseeching God for deliverance from his circumstances or the strength to withstand them? This is Springsteen at his best, addressing the universal from the eyes of the individual. This level of poignancy is lacking on Wrecking Ball because it's that level of brute force with which Springsteen often addresses the subject matter.
"Jack Of All Trades" tries to again connect the humanity with the outrage; the weariness in the vocal is intentional but after six minutes we're all worn out and it plays more maudlin than poignant. "Easy Money" is a poor rewrite of "Atlantic City." It is a sin and a shame he'll play this newer, lesser version instead the Nebraska classic.
"Death To My Hometown" may be a popular anthem at a MoveOn.org rally and the stomping rallying cry may energize arenas but the lyrics barely rise above sloganeering and the music sounds like Springsteen fronting the Dropkick Murphys, not the E Street Band. "Shackled And Drawn" is another Celtic-rock fused shoutalong with a whole lot of spirit but without a lot to say.
"Rocky Ground" is a re-write of "Hard Times (Come Again No More)," the spiritual he sang performed on the WOAD tour. The spirituality and reverence are powerful as is much of the imagery but too much of the song is devoted to the female backing vocalist and the interjected rap doesn't work well at all. "We Are Alive" opens as a "My Best Was Never Good Enough"-styled coda (The Ghost Of Tom Joad) before it becomes a Spaghetti Western ditty assaulted by a variation on the horn arrangement from Johnny Cash's "Ring Of Fire."
Wrecking Ball is as subtle as its name, but it's a rather dour affair much longer on anger and anti-capitalist screed than heart and populist hope at the core of Springsteen's previous masterpieces about the struggle of the middle class and that's the real disappointment; even the best of these songs serve to remind us he's said these things before, only he's said them better.