It was the best of shows; it was the worst of shows. Wow, Zurich! I have no idea what to make of what happened in your fair city on this Wrecking Ball tour…
The show opens with the tour premiere of "Don't Look Back" from the Tracks box set, a sign request for "Growin' Up," "Save My Love" from The Promise, and a big surprise in the form of a solo piano version of "If I Should Fall Behind," from the Lucky Town record. I can't believe Bruce "saw" that sign. I'm betting that solo piano performance was fantastic. I've always loved that song.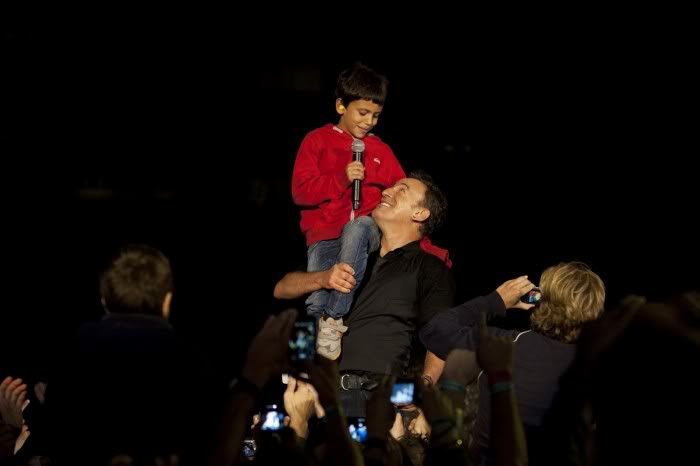 Did I mention requests? I think I'm on pretty safe ground when I say you're not one of God's children if you bring a sign to hear "Working On A Dream" as opposed to, say, just about anything else in the Springsteen canon. What in the name of sweet Noah's nutsack would make someone do that on purpose? That's depraved. That's a premeditated crime against- well, I'd say humanity but I'm talking about us Springsteen fans. It's still stupid and wrong and in the land of soccer riots, I hope the asshole what did this at least considered asking for police protection afterwards. Unbelievable. I'm embarrassed for this imbecile and for Bruce; that song and accompanying record are just awful.
Not only do we have WOAD, we have WOASD, the only song not from Wrecking Ball played at every show this tour. That's right: classic warhorses like "Badlands," "The Promised Land," "Born To Run," "Tenth Avenue Freeze Out," and "Thunder Road" have been played less frequently than "Waiting On A Sunny Day!" Even non-classic warhorses like "Bobby Jean," "Darlington County," and "Out In The Streets get the occasional night off! What gives? You're looking at it!
Bruce Springsteen writes songs about being pissed at his father, racing cars, and chasing skirt. His alter ego "Uncle Bruce" sings nonsense, turd pop songs that have no chorus and brings kids on stage to do face painting and make balloon animals with them (along with "Aunt Patti" and the 350-member E Street Band Flying Circus). Bruce Springsteen would beat Uncle Bruce's ass with a tire iron. It's a shame we can't find him. Every picture tells a story and this one is stupid. Souldeath.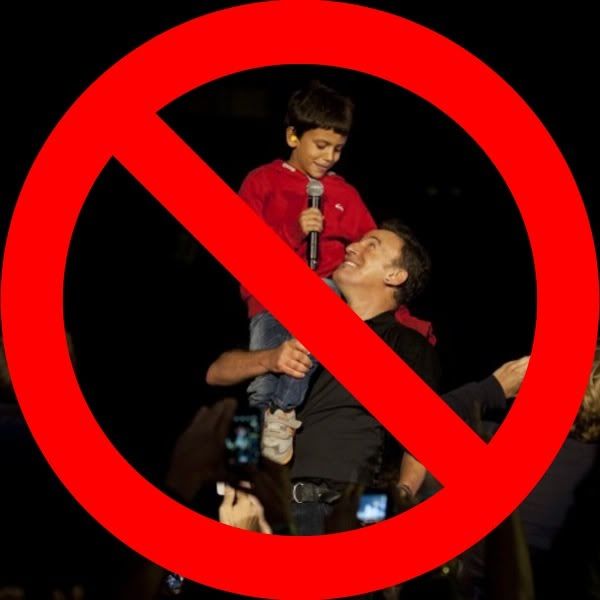 Don't Look Back
Badlands
The Ties That Bind
We Take Care of Our Own
Wrecking Ball
Death To My Hometown
My City of Ruins
Spirit In The Night
Working On A Dream (request)
Growin' Up (request)
Save My Love (request)
Jack of All Trades
Youngstown
Johnny 99
Workin' On The Highway
Shackled & Drawn
Waiting On a Sunny Day
The Promised Land
If I Should Fall Behind (Solo Piano) (request)
The River
The Rising
Out In The Streets
Land Of Hopes And Dreams
### ### ###
We Are Alive
Born In The USA
Born To Run
Hungry Heart
Seven Nights To Rock
Dancing In The Dark
Tenth Avenue Freeze Out
Twist & Shout