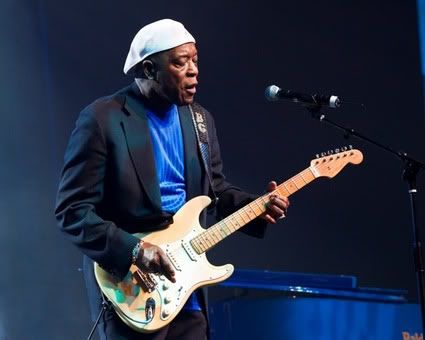 Those of you who have done me the honor of reading my work from time-to-time know when I write about concerts I attend, I begin with the set list and work my way from there.
Last night's evening with Buddy Guy and BB King at Ryman Auditorium in Nashville, TN was an exception to my usual routine and I knew that going in. I didn't care what got played. All that mattered was two of the legends of American music were going to take the stage in the greatest venue on earth and I wanted to be somewhere in the mix.
My lack of obsession was in no way a dismissal of these two giants or some way of treating them as museum artifact curiosities. Guy and King are legendary stylists. Both men have recorded many more songs than they've ever written. Both have had hits, King having enjoyed more pop crossover than Guy with songs like "The Thrill Is Gone." With artists like this it's the singer, not the song.
Buddy Guy opened the show with "Nobody Understands Me But My Guitar" and put his Fender axe through a blistering workout. I've seen Guy twice before but both times were at the Blues Music Awards and he only performed one song. The Guy of those performances was very much the one onstage during this performance and he appeared throughout. That version of Buddy is the rock star who plays with fury, force, and ferocious volume. He's also the man who just won the BB King Entertainer Of The Year Award at the Blues Music Awards. Guy toyed with the crowd, cracked wise, and flashed his contagious, fun-loving grin often.
After "Nobody," he quipped that he was going to play some blues, something you don't hear on the radio very often anymore. "They quit playing it; I didn't," he told the audience.
It was refreshing to see another side of Guy, an artist who understood and used dynamics in his singing and playing. Not everything was a roaring torrent of aggressively shredded notes and a torrent of hellacious string bending. He echoed his early work with Chess, firing off short, staccato, stuttering leads.
A couple men who have helped him with his more recent albums joined him on stage. Drummer, producer, songwriter Tom Hambridge helmed his Skin Deep and Living Proof records and he came out to join Guy for a performance of "Skin Deep." Guitarist Scott Holt joined in for a performance of the title track from Slippin' In.
I also go to great lengths to ignore my fellow concertgoers in addition to obsessing about set lists, a skill that sadly came in handy and was put to the test during BB King's set.
I've never seen The King before but I've listened to his classic Live At The Regal as well as Live at Cook County Jail. I've read about King the entertainer- The Blues Foundation named the award for him. I don't think some of my fellow concertgoers understood who they were seeing. The crowd became impatient as this stately, regal man laughed, smiled, joked, and told stories between songs. From what I've come to know about the man prior to seeing him in person, that's been part of an evening with BB King for decades. He lets his band do a couple numbers before he takes the stage, he talks to the crowd and the band, and he entertains as well as performs. I was enchanted and I know there were many others who were but not everyone "got it."
Several people left early. At one point, a blonde, middle-aged, halfwit woman that I actually hope was drunk interrupted King's set, apparently to lecture him about talking less and playing more. I was mortified. King's reaction? He smiled and played on despite the rudeness he was shown.
King, 85, is still in remarkable voice and can sing those blues just like he always has. He can still make Lucille sing, but he doesn't fire off those oft-imitated solos the way he has in the past. He's still a wonderful presence and I rose to my feet after nearly every song. He may not be fully what he once was but the soul and spirit are still as lively as ever and understand: the man can still sing and play!
Making that earlier interruption more unforgivable was that it came as he was about to launch into "See That My Grave Is Kept Clean," my favorite song from his fantastic One Kind Favor album. He rushed the performance a little bit but it was still excellent, echoing the great job he did on the record.
The crowd didn't improve much as the evening wore on but they did goad him into playing "The Thrill Is Gone." He may have intended on doing that one all along; I don't know. No matter. He KILLED it. His finest lead lines of the evening came during one of his defining songs. It was just one more reminder of how great this man is and has been. It was a pleasure to hear but I almost found myself angry that he gave so much to the ingrates surrounding me. He won the crowd over with that and an endearing singalong of "You Are My Sunshine."
I guess it sounds like I didn't tune out the crowd all that well but I assure you, these reflections on the rudeness really came after the show. During the show, I was grinning from ear-to-ear, clapping (mostly on the beat), admiring a giant. He played songs I knew and ones I didn't. His radiant smile outshined the purple, glittering tuxedo jacket he wore onstage. Nothing was ruined for me. I had a moment I'll never forget.
Listening, watching, and absorbing the moment, I became convinced the 74-year old Guy and 85-year old King will outlive me. If I get to stick around long enough, I'll see them both again.