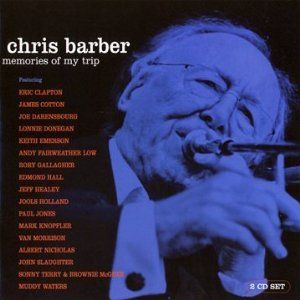 British bandleader, trombonist and bassist, Chris Barber is a legend on that side of the pond. Since the 1950s, he's been a prominent name on the jazz scene, as well as a well-known blues and gospel player. He's played alongside many of the greats and was a founding director of the legendary Marquee Club, but he's not that well known in America. Chris Barber – Memories Of My Trip intends to rectify that. A two-CD anthology, Memories covers Barber's impressive 60-year career.
The discs are arranged thematically, with disc one covering blues, jazz and gospel while disc two focuses on blues and jazz. Barber plays the trombone on "Do Lord, Do Lord Remember Me," a "fast spiritual number " that features some inspired vocals by Brownie McGee, Sonny Terry and Ottilie Patterson. The band is on fire, offering a New Orleans jazz feel to the track.
Eric Clapton joins on vocals and guitar for a laid back "Weeping Willow." Recorded in 2010, Barber's emotive trombone solo over Clapton's dobro show he hasn't lost any of his chops to age. Barber joins the legendary Muddy Waters for a spirited live version of "Kansas City" from 1979. While the fidelity on this particular recording is not up to the same quality as the others on the collection, the performance makes it well worth it as Barber delivers a growling trombone solo.
Disc two opens with "St. Louis Blues," featuring a sultry vocal from Patterson. Barber is joined by Edmond Hall of the Louis Armstrong All Stars on clarinet. The track is a slow burner, before veering off midway as the band goes into "Missouri Special." This 10-minute track never gets tiring and shows off the virtuosity of the musicians.
Barber shares vocals with Mark Knopfler on "Blues Stay Away from Me," a laid back track not unlike the Clapton one. The pair's voices blend together well on the track and Knopfler's guitar playing is tasteful and understated.
For an artist with the longevity and diversity of Chris Barber, it can often be a daunting task to begin a collection of his music. Chris Barber – Memories Of My Trip offers a nice introduction to this British legend's long and varied career.