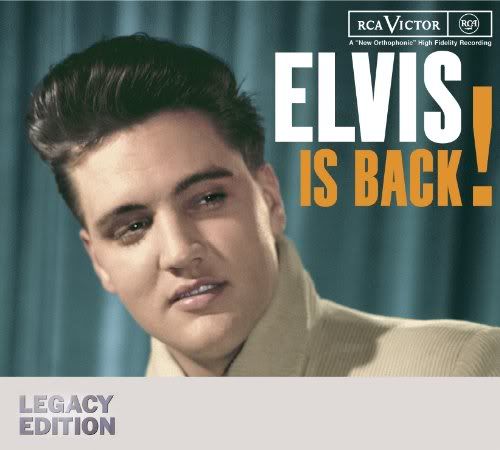 When Elvis Presley entered the Army in 1958, it could have been career suicide. While he was the undisputed King of Rock 'n' Roll up until that point, record buyers have always been fickle and two years was a long time to wait for new material back then. In short, his first album back needed to be killer — and it was. Elvis is Back! ranks among not only Presley's best albums, but is one of the best rock albums of all time. Now, more than 50 years after its release, it is getting the deluxe treatment by being paired with 1961's Something For Everybody on Elvis is Back! Legacy Edition.
Backed by his longtime band mates, the legendary Scotty Moore and DJ Fontana and now augmented by Hank Garland on guitar, Boots Randolph on saxophone and Floyd Cramer on piano, Presley had as diverse a band as he'd ever play with and it showed in the music. The opening track, "Make Me Know It," is a fast rocker that would not be out of place on his 1950s records, but that is followed up by the jazzy "Fever," with its signature bass line and sparse production. While not that much different than the Peggy Lee arrangement, Presley makes it his own with his commanding vocal performance. This was the voice of a man women wanted to be with and men wanted to be.
Presley tackles doo-wop on "Thrill of Your Love" and "Soldier Boy," the latter being appropriate lyrically as Presley had just been discharged. More than perhaps any other album, Presley took on the blues with tracks such as "It Feels So Right," "Like A Baby" and "Reconsider Baby," the latter two of which feature some killer sax from Randolph. While the blues were but one of Presley's influences, he delivers these songs as if he was born to sing this music.
Elvis is Back! was as major a statement as any rock artist had made. The King had come back to reclaim his throne. If that wasn't enough, Presley had five singles hit No. 1 on the pop charts during this period, four of which are featured on disc one including "Stuck on You," "It's Now Or Never," "Are You Lonesome Tonight?" and "Surrender." These remain some of Presley's best-loved songs.
After the release of the soundtrack to G.I. Blues and the gospel album, His Hand in Mine, Presley returned to the studio to record his next all-original studio album, Something For Everybody, which is included as disc two. Any artist would be hard-pressed to top an album such as Elvis is Back!, but Presley came close to at least equaling it.
The album opens with the torch song, "There's Always Me," a pretty ballad showcasing Presley's newfound vocal maturity. The same holds true for "It's A Sin" with its almost lullaby piano and "Gently," with its intricate guitars underscoring the proceedings. Presley had the confidence at this point to tackle virtually any style of music and do it well.
Less anyone think Presley forgot how to rock, "Give Me The Right" with its bluesy swagger would be at home not only on "Elvis is Back!" but any of his 1950s albums. "I'm Coming Home" is an up-tempo rocker with some fine guitar and piano work while "In Your Arms" recalls past glories such as "Don't Be Cruel" or more recent fare such as "Stuck On You." These types of songs were in Presley's wheelhouse and he always delivered when singing them.
Remarkably, all of Something For Everybody was recorded in one day, save for "I Slipped, I Stumbled, I Fell," which was recycled from the Wild in the Country sessions. Such a feat would be unheard of today, making the fact Presley and his band not only pulled it off, but with such strong material all the more amazing.
Disc two includes a number of singles from the period, including the No. 1 "Good Luck Charm" and Presley classics such as "Little Sister" and "(Marie's The Name) His Latest Flame."
With a killer band, killer material and a killer voice, Presley could do no wrong during this period, making the lackluster soundtrack material that was soon to follow all the more depressing. Still for fans of not only Presley, but also 20th century popular music, Elvis is Back! Legacy Edition is an absolute must own.