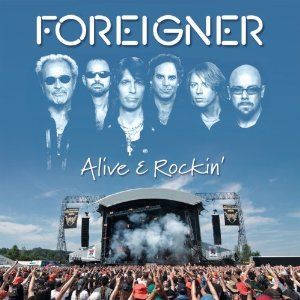 Foreigner is a band often associated with radio-friendly power ballads. At the Bang Your Head!!! Festival in Germany 2006, they got to show off their more rocking side with a strong, hour-long set. This performance is captured on the CD Foreigner – Alive & Rockin'.
While guitarist Mick Jones remains the only original member, this performance finds the band showcasing one of their stronger lineups. Jeff Pilson of Dokken plays bass and provides backing vocals while Jason Bonham handles the drum duties. Replacing Lou Gramm is no easy task, but former Hurricane vocalist Kelly Hansen fills in ably, sounding enough like Gramm, but different enough to avoid comparisons to bands using a sound-alike such as Journey.
The show opens with a gritty "Double Vision," which is played slightly slower than its studio version, giving the song an extra edge. Jeff Jacobs' prominent organ during the main riff adds a Deep Purple feel not heard on the original.
Hansen showcases his powerful vocals on "Cold As Ice" and "Feels Like The First Time," offering renditions of both that are very faithful to the originals. The former also features some fine band harmonies as well.
"Urgent" gets an extended bluesy keyboard and guitar intro before the song launches into its familiar intro riff. Hansen turns in another fine vocal, but the real star of the song is saxophonist Tom Gimbel who pays homage to the late Junior Walker's classic original solo while also adding his own extended take on the song. The song is a definite highlight in the show.
In a nod to Bonham's legendary father, the band goes into a jam of "Whole Lotta Love" during an extended "Juke Box Hero." Hansen is no Robert Plant, but still sings the song well. The show closes with a hard-edged version of "Hot Blooded," with a powerhouse vocal from Hansen.
Fans of Foreigner who think this may be a cash grab are doing themselves a disservice. Hansen's vocals do the originals justice and the band is performing as well as ever, making Alive & Rockin' a fine release for fans.