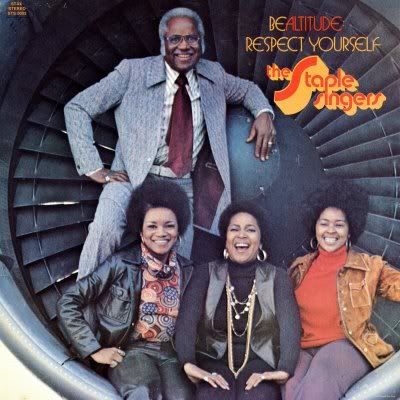 Few groups have had the longevity of the Staple Singers. Fewer yet have managed to do it while completely changing styles more than once. The Staple Singers started out as a gospel group in the 1950s, before turning to folk music and protest songs in the 1960s. After signing with Stax in the late 1960s, the Staple Singers moved from protest music to "message music," as Mavis Staples put it. The songs were still socially conscious, but didn't beat the listener over the head with their message. The music also infused more of a soul and R&B flavor to it. The pinnacle of this period arguably came with Be Altitude: Respect Yourself, which featured three top-ten R&B hits.
Cut with the famed Muscle Shoals house band and augmented by the Memphis Horns, Be Altitude leads off with "This World," a funk-based song brought to life by its powerful gospel-style vocals. "Respect Yourself" begins with Roebuck "Pops" Staples' laid-back vocal over the song's undeniable groove before Mavis Staples elevates the song to greatness after the first chorus with her jaw-dropping performance. In light of the then-recent Civil Rights movement, the song was a wakeup call, particularly to Black America and blended funk, soul and a hint of rock guitars, making it one of the genre's crowning achievements.
"I'll Take You There" blends reggae with gospel in an electric mix. Mavis Staples shines on the track, demonstrating the power and versatility of her voice. The song hit number one on both the Billboard R&B and Billboard Hot 100 charts and is yet another example of the Staple Singers' mastery over multiple genres. The anti-intolerance "I'm Just Another Soldier" mixes military cadences with gospel vocals and invokes the names of the then-recently slain Martin Luther King, Jr. and Bobby Kennedy, along with John Kennedy as soldiers in the army of love. The song hopes their deaths were not in vain.
The remastered CD includes two bonus tracks — The up-tempo "Walking In Water Over Our Head" and an alternate take of "Heavy Makes You Happy" with Pops, Cleotha and Yvonne Staples singing the fourth line of the verse as opposed to just Pops on the released version. Worth owning for the singles alone, Be Altitude: Respect Yourself remains a peak of the Staple Singers' career and an exciting hybrid of gospel, soul and R&B, with the slightest hint of rock.