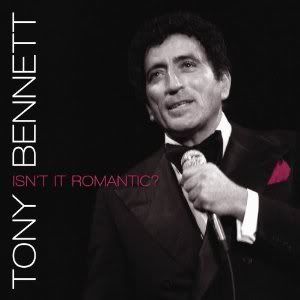 Tony Bennett has had an over 60-year career singing some of the biggest and best love songs ever written. Now, 15 of those tracks are collected on the new compilation, Tony Bennett – Isn't It Romantic?
The collection is culled from Bennett's 1970s period with nine of the 15 tracks from his two acclaimed albums with the late jazz pianist Bill Evans. The disc opens with "Make Someone Happy," originally from Together Again, his second album with Evans. Bennett delivers an impassioned vocal against Evans' brilliant, understated accompaniment. This is the sound of two masters on top of their respective games.
The title track finds Bennett accompanied by the Ruby Braff/George Barnes Quartet. Bennett offers a laid back vocal against Braff's tasteful cornet and Wayne Wright's subtle guitar. One can imagine a couple in love strolling along a boardwalk to this. The Quartet also backs Bennett on the pretty "Lover." Bennett's voice is the very sound of romance with Wright's guitar adding a lush touch to the proceedings. The control Bennett shows over his voice on the track is remarkable, going from powerful to barely a whisper.
Bennett sings with the Torrie Zito Trio plus orchestra on the classic, "As Times Go By," ably crooning the big band-era slow dance number. The Trio returns to accompany Bennett on "Life Is Beautiful," the title track from his 1975 album and a song co-written by Fred Astaire. The song is beautifully orchestrated and Bennett's vocal is spirited, celebrating the very things that make life worth living, namely the love of the right partner.
"My Foolish Heart" finds Bennett teamed with Evans on a track warning not to get burned by new love. Bennett's voice is strong and Evans always seemed to know what notes to play under his vocals. A perfect combination if there ever was one.
With such a vast catalog, it can be a daunting task to assemble a collection of Bennett's recordings. For fans looking for a good compilation of some of his more romantic songs or for fans new to his music, Isn't It Romantic? is a good place to begin.