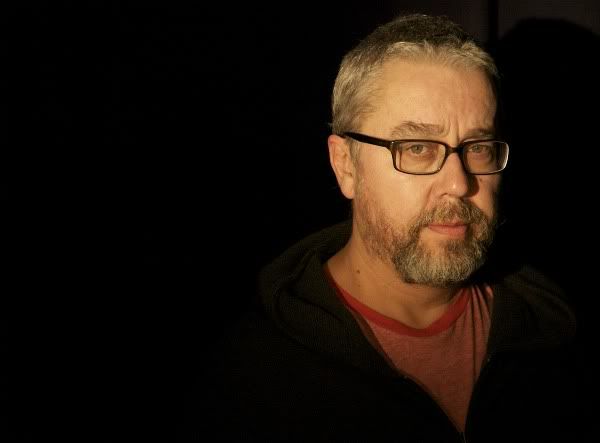 Karl Wallinger, as World Party, has released five CDs, a few singles and an EP in twenty-five years. Now, as a late or very early Christmas present, he gives his fans a five-CD set in a spiral-bound notebook with personal notes about each song. Karl is quite the character, musician and artist. I first became aware of him as a member of The Waterboys and considered him a staple of the band, that is, until he left after the second LP. He resurfaced as World Party, Karl with a random set of backing musicians, and as a producer on Sinead O'Connor's debut.
I was living near Albany, NY in 1986 when a radio station that had been playing "Ship of Fools" and Private Revolution announced 200 free tickets to a World Party show. I called and, along with 199 others, saw the show of my life. It did not matter that most people in the audience did not know the songs – every song was well thought out and important. Karl closed the show with a note perfect "A Day In the Life" including the extended piano chord at the end as the lights came up. In 45 years of concert going, that was one of the few times I had seen a crowd, given free tickets, nearly riot after the lights were turned on! For a new artist with a great band, Karl and company had those 200 people as fans and proselytizers.
Next came the Thank You World EP, most of which would be included in his follow-up release, Goodbye Jumbo. While the second release sold well in the states, it was a phenomenon in Europe. In 1993, I was on tour with 10,000 Maniacs and their offshoot duo, John Lombardo and Mary Ramsey, a/k/a John and Mary. A new band of World Party lead by Mr. Wallinger, opened several shows and performed most of "Jumbo" and several select covers including an amazing version of "Happiness Is A Warm Gun" included on the EP. Mary could not help but to chastise Karl for not performing his only stateside hit, "Ship of Fools." It was quite fun to witness a contrite Karl beg for forgiveness, grab a guitar and play it just for her.
Karl's next three releases would be largely ignored in the states and then suddenly, after the turn of the century, silence. It was not long into the decade when it was announced that Karl had suffered a debilitating brain aneurism, which left him unable to speak or sing. Five years go by with no news or music from Karl until late into the decade, he announced that he had regained his voice and would be playing select shows in the US and Australia. It would have been worth the price of a flight and a ticket to see his comeback at SXSW but, sadly, I did not learn of the show until it was in the review pages.
Earlier this year, I read a preview of a new five-CD set by Jim Farber (excellent music critic and writer), titled Arkeology. It is full of unreleased songs, covers, B-sides and live tracks – just what the doctor ordered for the World Party fans. The material is not in any kind of special order but sequenced in a way that Make sense to Karl. While Jim questions the thinking behind such a huge project by a lesser-known artist in this economy, I think it has taken people by surprise by actually selling more units than expected. I ordered my copy from Amazon the day it was announced and still had to wait six weeks for it to arrive. I knew they were selling them by the number of customer reviews on various websites so I was happy to wait knowing that, at the very least, there were people still interested – and interested enough to plop down the 40 plus dollars for the unique collection. One of the early reviewers on Amazon started out his review with: "I am a big World Party fan…but" and proceeded to trash the set. What followed were multiple rebuttals of polite venom.
I wouldn't be surprised if all 200 of those people at the Albany, NY performance of World Party bought a copy, enjoyed it, and joined in the thrashing of the wayward World Party fan. Now that the sets are readily available and even if you are not familiar with the band or Karl, treat yourself to a copy and listen to Mr. K's view on politics, religion and life – it will be well worth your time.