This week's X Factor is down to the final five contestants vying for a place in the semi-finals and one of them is two weeks away from being crowned the winner of a $5 million dollar contract with Sony Records. Tonight they are tackling two songs a piece and the first round is supposed to be "the best dance songs" we've ever heard.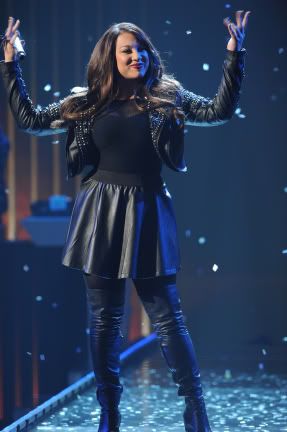 Simon Cowell's new show pony, Melanie Amaro, does the abominable remix ofAdele's "Someone Like You." Her tempo barely picked up while the music sped on and the dancers ran crazy. I hated it. I love that song and hated her version. The judges thought it was brilliant and Simon pats himself on the back and says she's a diva and made that her own.
LA Reid called Marcus Canty a two-time survivor for getting out of the bottom two twice in a row. He does Chaka Khan's "Ain't Nodbody" and it's the best he's done since his audition. His energy was high; he sounded great and was a lot of fun to watch. Simon gave him glowing comments despite having bested his contestant Drew NoLastName in the singoff.
Simon introduces Rachel Crow by saying she is "singing a song of her choice, and no chair" referencing the Drew debacle of last week. Rachel is such an adorable little firecracker; she makes me smile as she bounces through "Nothin' On You" by B.o.B and Bruno Mars. She even danced around some and while she's sounded better she was a lot of fun to watch. LA Reid tells her, "You are such a little star." Nicole wants a Rachel Crow doll and Paula Abdul said she has timeless vocal depth.
Josh Krajcik is Nicole Scherzinger's final act remaining and I'm a little concerned about him doing a dance song as the raspy, crooner guy. He does "We Found Love" by Rhianna. It didn't feel authentic or connected but it was a dance song and Josh isn't going to record dance hits. LA and Simon thought it was ridiculous and the dancers were distracting; Nicole emphatically disagreed and gave him a personal standing ovation.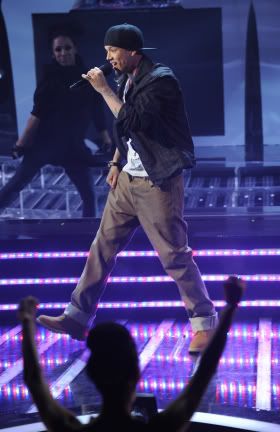 Chris Rene is the only one of the remaining five contestants who should actually be doing a dance hit and can make it believable. He sounded the best he ever has, and was moving around, with original lyrics to "Livin' Your Life" and even had a little moving sidewalk, a la Jamiroquai. Nicole called Chris "Josh" but goes on to say he was inspiring and she loved the original verses. Simon says he loves Chris and loves his "type of artist" and thinks while Chris is not the best singer, he's the overall package and doing "brilliantly."
For the second song, the contestants were supposed to do "Pepsi Challenge" songs voted on by America. There was a change of plans because the voting was somehow compromised. So as a little twist they have 24 hours to get the song they were going to use as their "Save Me" song ready for the live show. Now I'm wondering what they'll use as their "Save Me" song should they need it.
Melanie Amaro does the Mariah and Whitney song "When You Believe" and she looked and sounded flawless, miles ahead of her first performance. Girl can sing -- I'll never say she can't -- she just doesn't move me, and leaves me flat pretty much every time she sings. She gave an annoying speech about believing in herself, blah blah blah and the judges predictably gushed all over the place.
Marcus Canty sings "A Song For You" by Leon Russell and even when he does well, like he did tonight on both songs, I mostly hear a Bobby Brown rip-off. He did a wonderful job but it was so low energy, especially compared to his earlier performance. Paula says he's honest and a superior storyteller. Simon said it was good but he's not jumping out of his chair, but says Marcus is likable.
Rachel Crow tackles Michael Jackson's "Music and Me" and it's a great choice and vocal fit. Like Marcus, it paled in comparison to the first outing but she's a little vocal powerhouse and I love to hear her sing. The judges are enamored with her and Simon kept stressing that she picked both of her songs tonight.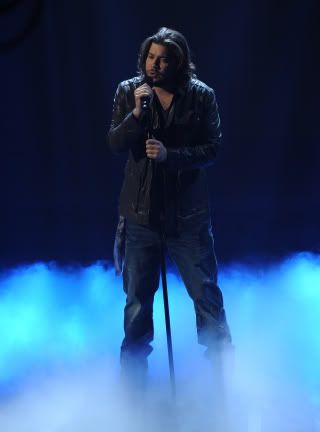 Josh Krajcik sings "Something," written by the late, great George Harrison, and it's a perfect, natural for his voice- I love it. He's completely redeemed himself from the weak dance number of earlier. LA said Josh was very good and "ever so slightly karaoke" and Simon said this is a massive improvement from the previous song and suggests Josh not let anymore crazy choreography around him; Nicole called him the "male Adele."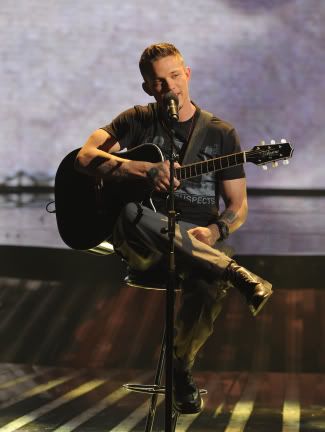 Getting the pimp spot of the evening is my favorite, Chris Rene, who performs an original, "Where Do We Go From Here." Chris' segment opens with a call from Stevie Wonder who said he heard "Young Homie" from Chris' audition and he thinks he's is inspiring. For the first time this competition, Chris is seated and playing a guitar. This is a brilliant move, changing it up a little to show he is more diverse and that he is musical and can play an instrument, giving him more dimensions. It was pretty good but a little monotonous and not as catchy as his previous hooks. Nicole tells him "Sky's the limit with you" and Simon says his move of singing an original song could go either way and he thinks "it's a stroke of genius."
The remaining five finalists are one step away from being in the semi-finals as tomorrow sees us sending one more home. I predict the bottom two will be Marcus and Josh, with Marcus going home. Check back tomorrow and see if I got it right and let me know who you feel deserves to be voted off next.