Two more contestants went home tonight, leaving us with our X Factor Top 5 who are vying the $5 million prize and Sony Music recording contract. Last night I predicted we'd see the end of Drew, Astro or Marcus, let's see how it all plays out, shall we?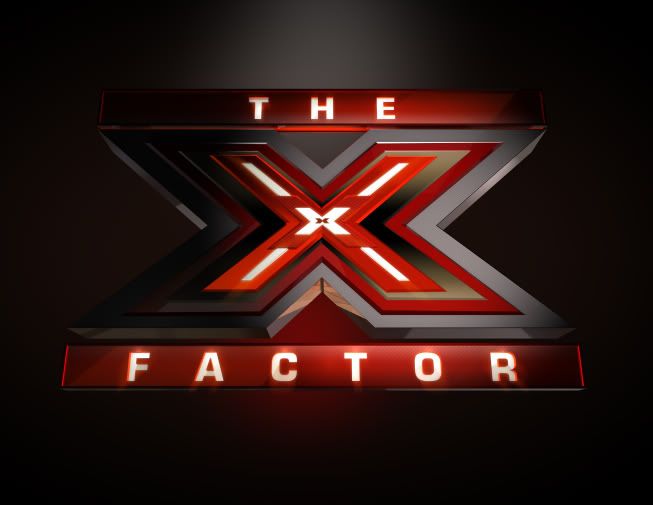 We open the show with seven performers and they follow last night's Michael Jackson theme with what may be the best group number I've seen on one of these "singing" competitions, with a fairly cohesive rendition of Michael Jackson's "Man In The Mirror." They each had a great solo moment and the performance still held together.
Now it's time to get down to business and in no particular order, we learn Chris Rene is first to be promised a slot in the 'Final Five' Melanie Amaro and Rachel Crow join him, also safe.
Before we find out who will be sent home immediately and who gets to duke it out with a survival song, we must endure a performance by Tinie Tempah. One thing I will say: The X Factor live performances have a marked advantage over the ones we've endured on American Idol.
Back to business and Worthless Host Steve Jones delivers great news that Josh Krajcik is guaranteed safe. Out of Astro, Marcus Canty and Drew No Last Name, regretfully Astro is sent home first which is a little soul crushing because his momentum was growing for me. He seemed a little shocked yet ready for it at the same time. He ignored the worthless host to hug his team first and Simon Cowell whispered something in his ear that ended in "career." Astro will be sorely missed every week by me and he was the best part of the opening number earlier in the show.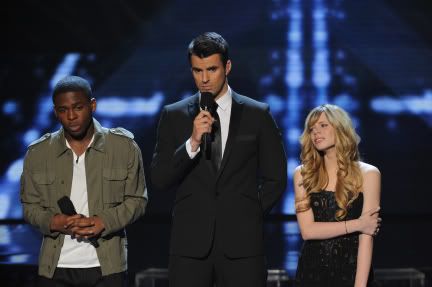 Now it's singoff time and Drew is up first. She does Roxette's "Listen To Your Heart," and while it had more life to it than her past efforts it's very clear why she stays slow and low: any higher or faster and it's pitch-o-rama.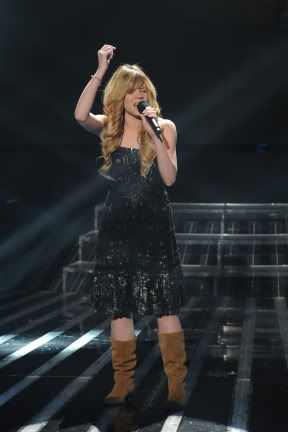 Marcus Canty is next and tells us he's humble and wants to give us his soul with his rendition of "Neither One Of Us" and he starts with a husky, lower register than he's done, at least in a while. He absolutely sang from his heart and gave us a little piece of him. There was a major difference in the two performances. Drew was sulky and sad, almost like a pensive, confused child, whereas Marcus sang like a man who is fighting for the survival of his dream.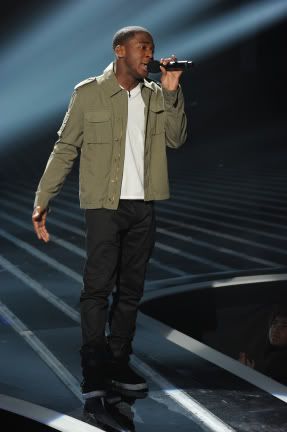 Now it's time for the judges to vote and see who stays: Drew or Marcus. LA Reid votes first and he obviously saves his guy and sends home Drew. Simon votes next and says he did wrong by Drew with the song choice and arrangement last night and sends home Marcus before imploring the other judges to save Drew. Nicole Scherzinger once again cries and overdoes it with her adorations and critiques before sending home Drew. This leaves Paula Abdul to send Drew home or bring it to a deadlock again, sending home whoever garnered the fewest of America's votes. In a ballsy and shocking move, Paula sends home Drew because Marcus moved her and Drew did not.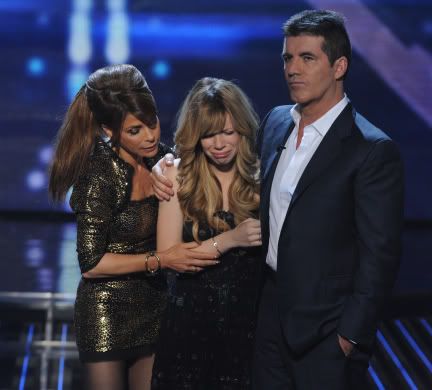 Simon's pissed and won't give Steve Jones any last word and is focusing an evil eye on someone over by the judges table. Drew gives a tearful, sobbing last word about Jesus loving us all and that's why she was truly here, and now she's saying it. She's such an awkward chick.
So there you have it, folks…much like last week, it's a bittersweet moment, one I wanted gone and one I'm sorry to see go. Astro and Drew have been eliminated, did you vote? Did America get it right?