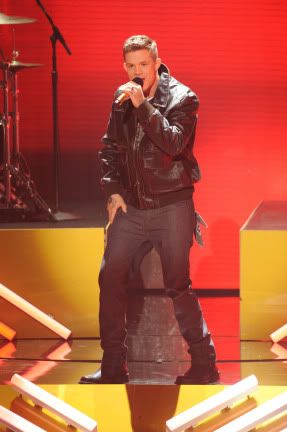 Chris Rene was the third-place finisher on the inaugural season of the USA version of Simon Cowell's new pet project The X Factor and while he didn't get the $5 million Sony contract or high-profile Pepsi commercial, he has fared quite well securing a deal with the Epic division of Sony records, under his former X Factor mentor, LA Reid.
There has been speculation and rumors regarding Chris releasing a "new song of original material, written by Chris himself" on Valentine's Day, February 14. For those paying attention you already know today is Valentine's Day and alas…no new release; it seems to have been pushed to February 28 now, two week delay. It also appears the "new song" is the official and final version of the mega-hit "Young Homie" (nearly 13 million views on YouTube and counting, also charting on iTunes off and on throughout the XF season).
Chris told his Facebook and Twitter followers that if they helped him reach a goal of 200,000 followers on Twitter (@MrChrisRene) he'd release the "Young Homie" stream. Well, it didn't take long at all for his loyal "Renelians," as he calls them, to help him reach and surpass that goal. True to his word, we were treated to a sneak peak of the finished version of the single. I'm assuming this is the version that will be available for download on February 28.
This song was already good, catchy, and had an earworm of a hook with meaningful, personal lyrics. Chris wrote the words and music for the song and while it affected people and inspired throngs of musicians and non-musicians to post their own versions on YouTube, it was definitely rough and could benefit from some polish. LA Reid and the producers got the formula perfectly perfect with this finished product. There are new lyrics, with all the old ones still there, we get an update on Chris' sobriety ("it's been NINE months, haven't had a drink and I'm starting to see clear now"), and the original beats and hooks are there just bigger, better and more complete. This feels like how the song should have always sounded. While Chris doesn't have the best singing voice as Simon reminded us of continuously during Chris' run, he has charisma and presence and even without seeing him sing this, you're pulled in. There's definitely dubbing and layering with his vocals but it's not too much or overdone.
I love the song and it's exactly what I hoped it'd be like. Chris is busy shooting a music video for it and then I hope it's time to put "Young Homie" to rest and concentrate on completely original material not related to The X Factor. Chris Rene's big label debut is scheduled for some time in 2012 and I can't wait to get my hands on it and review it for all my fellow Renelians.
Listen to "Young Homie" below: