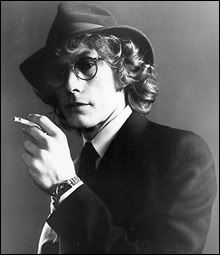 "If California slides into the ocean like the mystics & statistics say it will,
I predict this motel will be open until I pay my bill…"
Warren Zevon's first LP on Asylum Records hit the shelves while I worked in a record store during my mid-seventies college days. I ordered two copies, one LP for the store and one for me, because of a Billboard Magazine ad with the tag-line:
"Produced by Jackson Browne."
Jackson pretty much defined my life from 1972 until, well, now. If Mr. Browne thought this guy was good enough to produce a whole record, I'm in. I was right. I also had to order more records for the store as I played it non-stop on the sound system.
Warren's eponymous record was a collection of songs that, at first listen, sounded like a lesson in history and some kind of a Woody Allen in-joke. With the opening piano lines of "Frank and Jesse James," and the ten story songs that followed, cynical humor and complete histories of dejected, rejected people filled the record. By the end of each song the listener knew where the character stood. Even when the main character was faceless, "Hasten Down the Wind" the listener knows how the story would end.
How could a 1970s college student with a bent for romance keep from falling for a line like: "I hear mariachi static on my radio as the tubes, they glow in the dark…"? When the song takes a tragic turn as the singer waits for his drug dealer on the corner - after selling his typewriter - the real humor sets in and it gets better and worse. I may not have been there but I had damned-sure read about it in every Raymond Chandler novel but had not heard it in a song. I was listening to a voice of someone who had been there. It would be a few more years before I knew that Warren had actually been there. Several times.
There are songs about staying up for days, visiting museums and smashing your head against the wall and listening to late night religious radio across accepted lines. Songs about a mother and grandmother are followed by a bit of S & M with a woman you meet in a bar.
Everything you need to learn in college is on this record.