Counting Crows are going it alone, leaving their longtime label Geffen, and they're ready to issue their first new album since the stunningly great Saturday Nights & Sunday Mornings with a 15-track collection of covers they've titled Underwater Sunshine (Or What I Did On My Summer Vacation) on April 10.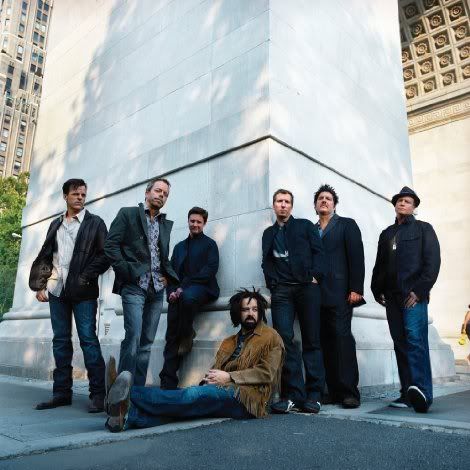 I guess I've called my shot and admitted my deep affection for Counting Crows so hell yes I'm excited about this. Covers have long been a part of the Counting Crows' musical language, often interspersing them with their own songs like including Bruce Springsteen's classic "Thunder Road" with "Rain King" or segueing in and out of U2's "Red Hill Mining Town" -- a song U2 has yet to perform live -- when they perform "Murder Of One." There are countless other examples of it and they do covers just for the sake of it in their live shows- speaking of which, we have tour dates for Undercover Sunshine, which we will get to.
This new set features covers of well-known songs and some far more obscure and if you want to hear a tune from the new set for free, you can get a free MP3 of "Mercy," originally recorded by Tender Mercies. Other bands whose work are featured on this new record include Pure Prairie League, Teenage Fanclub, Travis, Dawes, Gramp Parsons, Bob Dylan, and Big Star. Kids, it's going to be a longass wait for this record but I'm already marking down the days.
While you're waiting, if you didn't get the Saturday Nights record, you're really missing out on something special and you owe it to yourself to correct that error without further delay. Don't let one more day of your life pass without it. I'd also point you in the direction of August & Everything After - Live, the recently released CD/DVD/Blu-ray package that found the band performing their essential debut in its entirety with a few of those covers interspersed as mentioned earlier. Kids, this has the makings of a good one. Don't be late to the party. Mark it on your calendar and go get your free download of "Mercy."
Untitled (Love Song) by Romany Rye
Start Again by Teenage Fanclub
Hospital by Coby Brown
Mercy by Tender Mercies
Meet On The Ledge by Fairport Convention
Like Teenage Gravity by Kasey Anderson & The Honkies
Amie by Pure Prairie League
Coming Around by Travis
Ooh La La by The Faces
All My Failures by Dawes
Return of the Grevious Angel by Gram Parsons
Four White Stallions by Tender Mercies
Jumping Jesus by Sordid Humor
You Ain't Going Nowhere by Bob Dylan
The Ballad of El Goodo by Big Star