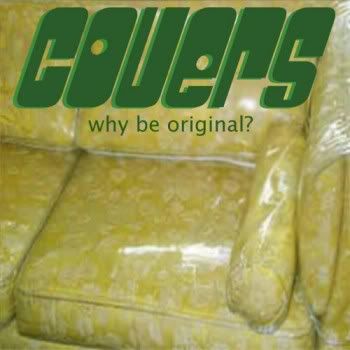 I was inspired by a recent post from Mat Brewster that talked about cover songs. "Great cover songs take the essence of the original and then do something new and innovative with it." I couldn't agree more. A cover song junkie for more years than I care to admit, this got me thinking: Is it the cover I love, or is it just that I'm a fan of the original song? Or maybe the better question - do I like any cover songs that I didn't care for in their original form?
In asking these questions, I'm not sure I ever got to a clear answer. My favorite covers? Usually songs that I loved the first time around, covered by artists I like. After all, how could you go wrong taking something I like and adding in someone I like? And then there are others who don't like the concept, output, or general idea of a cover song. Is the idea of changing something that's already good (or even great) a silly idea? With no real answers in sight, I leave you to ponder your own favorite cover songs. Here are a few of mine:
"One" - R.E.M.: So I picked a U2 song, boss-man Josh will be happy. But seriously, this song was played during an MTV performance in conjunction with the Bill Clinton inauguration. Half the members of REM, half the members of U2 - if I remember correctly.
"Pure Imagination" - Smoking Popes: A little Willy Wonka, a little Josh Caterer. Nothing like a song that brings up great childhood thoughts of candy.
"Rocket Man" - Angie Aparo: In the process of writing this article I learned I like any Elton John cover. It's hard to imagine anyone could improve Sir Elton's songs, but this one is just magical to me (look for a hit of Major Tom).
"Just Like Heaven" - Dinosaur Jr: I read once that this is Robert Smith's personal favorite cover of the Cure classic, which I believe got its start as a B-side to the Bug record (but don't quote me on it).
"Africa" - Howie Day: Honestly I have no idea where I got this bootleg recording but I love it (don't worry, others have clearly communicated their distain for it).
"Different Drum" - Evan Dando: Mr. Lemonheads himself gives us this cover on the 1990's Favorie Spanish Dishes EP (did you know this Linda Ronstadt number was written by Mike Nesmith of the Monkees?).
"Up on Cripple Creek" - Gomez: This classic from The Band is brought to us by the 2007 Endless Highway tribute to The Band.
"Laid" - Better Than Ezra: Often covered, this James song is a true classic. This version from the New Orleans-based Better than Ezra is from their 2005 Greatest Hits record.
"We Can Work It Out" - Heather Nova: This gem is from the I am Sam soundtrack which is a veritable treasure chest of Beatles covers.
"Down Under" - Big Sky: This now disbanded group would bring the house down with this song (rock and roll flute…are you kidding me?). You can find this on their Live at the Sapphire Supper Club record.
"Dancing in the Dark" - Pete Yorn: This was on the Musicforthemorningafter Bonus Disc.
"Just" - Mark Ronson Featuring Alex Greenwald: From the compilation of Radiohead songs Exit Music: Songs with Radio Heads.
"Driver 8" - Old 97s: One of my favorite voices (Rhett Miller) covering one of my favorite voices, from 2010's Mimeograph EP
"Since U Been Gone" - Ted Leo: Again, not sure where I found this beauty but it's fantastic…including the morph into "Maps" by the Yeah Yeah Yeahs.
"Float On" - Ben Lee: From the Catch My Disease 7 inch.
"Goodbye Yellow Brick Road" - Wayne: File this under "what the hell happened to this band?" No, really. The Music on Plastic record is one of my all time favorites, and yet the band seems to have fallen off the face of the world. This was actually the hidden track on the record (remember when they used to do that?) so you have to listen to the Drop D track and some silence before you get to it…but it's worth it…trust me!
"Rich Girl" - The Bird and the Bee: From their 2010 record devoted to all things Hall and Oates.
"Summer Breeze" - Jason Mraz: Covering the Seals and Crofts original.
"Two of Us" - Amiee Mann and Michael Penn: Another amazing tune from the I Am Sam soundtrack.
"Wind Cries Mary" - John Mayer: Imagine if you can, a time when John Mayer wasn't a giant douchebag. It was, my friends, a glorious time. This song was released I believe as a bonus disk to the Inside Wants Out record (again, don't quote me). Turn it up to eleven…it's worth it.
Want to hear my cover selections? Here's the playlist: http://8tracks.com/stephanie931/cover-me