Listening to Crosby, Stills and Nash's self-titled 1969 debut album is like stepping inside a time capsule. Graham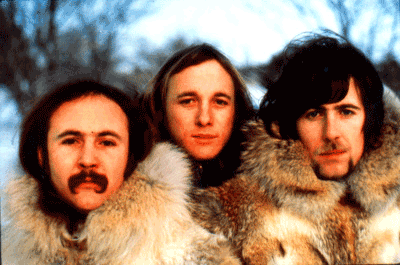 Nash, who had just left his previous group The Hollies, joined forces with singer/songwriters David Crosby (ex-member of The Byrds) and Stephen Stills (formerly of Buffalo Springfield) to produce an innovative fusion of folk and rock. Its songs, filled with the trio's exquisite harmonies, reflect the late 1960s vibe yet seem timeless and still unique. Audio Fidelity's 24 karat gold remaster, overseen by engineer Steve Hoffman, refines the tracks, enhances the bass, and boosts the intricate harmonies to let the music shine through.
Crosby, Stills and Nash contains stellar tracks, many of which have since taken their place in late 60s/early 70s history. The over seven-minute "Suite: Judy Blue Eyes" has become synonymous with Woodstock; one can still see them furiously strumming their acoustic guitars, their voices perfectly blending together. Stills' composition subtly changes tone over three times, the tempo varying little. Forty-two years later, the track stands as a masterpiece of contemporary folk rock, a philosophical treatise on love. "I am yours, you are mine, you are what you are," they begin, singing that "you make it hard." The couple separates, causing the narrator grief: "Listen to me baby/ It's my heart that's suffering," Stills sings. The "suite" concludes with Stills pleading her to "change my life, make it right/ Be my baby." It's a tour de force of songwriting.
Nash's "Marrakesh Express" is perhaps the most dated of all the tracks, heavily steeped in the Indian mysticism and psychedelia typical of the decade. The upbeat track features lyrics like "I've been saving all my money just to take you there/ I smell the garden in your hair." Images of clothing, cobras, and "blowing smoke rings from the corners of my mouth" pervade, which now appear quaint more than fashion-forward. Still, it's a pleasant remnant of the times. Crosby's "Guinnevere" greatly benefits from the 24 karat gold treatment, as the delicate guitar strumming and intricate harmonies jump out of the speakers. Stills' "Helplessly Hoping" delves in mythical images, with lines such as "Her harlequin hovers nearby/ Awaiting a word." While the lyrics may be fanciful, Crosby, Stills and Nash's exquisite harmonies rescue the track from being classified as "60s hippie folk."
Their chords, atypical of many folk rock songs of the period, sound rich and beautiful in tracks such as "You Don't Have to Cry," a Stills composition. Nash's Hollies background surfaces in "Pre Road Downs," an uptempo number swimming in psychedelic acid rock and swirling, backward guitar loops. It represents Nash's desire to experiment beyond the pop-dominated Hollies sound. Like many of these remastered songs, the bass resounds much more than on the original recording, adding a heavier quality to the track.
In addition to love songs and straightforward rockers like "Pre Road Downs," Crosby, Stills and Nash contains topical, overtly political material. "Wooden Ships," one of the album's best-known tunes, features anti-war lyrics such as "Horror grips us as we watch you die/ All we can do is echo your anguished cry/ And stare as all your human feelings die." Today, the organ and electric guitar solos soar, as do the trio's powerful vocals. Not surprisingly, "Wooden Ships" remains a classic rock staple, a great example of album tracks that rock without losing significance.
The best and most powerful track on the album, Crosby's "Long Time Gone," perfectly encapsulates the turmoil and exhilaration of the 1960s. Written after Robert F. Kennedy's assassination, the lyrics paint a vivid picture of bewilderment: "Speak out, you got speak out against the madness/ You got to speak your mind." However, the song suggests a better future: "But you know, the darkest hour/ Is always just before the dawn." When the trio emphasizes the line "And it appears to be a long" before Crosby finishes the thought by softly crooning "Such a long, long, long, long time/ Before the dawn," one senses that the group is dramatizing a historical crossroads. After experiencing assassinations, the Vietnam War, protests, and a general culture clash, what would happen next? Would CSN's generation continue moving forward, breaking down barriers, and enabling change? Not surprisingly, "Long Time Gone" is featured prominently in the Woodstock documentary, suggesting that the concert would inspire an artistic, political, and cultural revolution that would impact future generations. This impact has been greatly debated, but "Long Time Gone" summarizes this new spirit and still functions as a song suggesting that the "dawn" will never arrive if people simply maintain the status quo.
Audio Fidelity describes their remastering process as taking the original mixes, having top engineers enhance the vintage tapes, and coating the CD with a 24 karat gold coating. This coating is resistant to chips and defects, allowing for a more pristine sound quality. Indeed, this edition of Crosby, Stills, and Nash smooths out audio imperfections, bringing instrumentation and vocals to the foreground. Nothing today sounds quite like the trio, and the remastered work enables the listener to further appreciate artists who crafted a still unique kind of music.