Dani Wilde and Samantha Fish are 2/3 of the Girls With Guitars collaborative project (Cassie Taylor being the third) and the two of them have now released solo albums this year, giving us a chance to take the pieces from the sum apart and hear them as individuals.
Girls With Guitars was a flawed outing from three talented performers. Fish's solo album avoided many of the problems that marred GWG but Wilde is not as fortunate on Shine. This is being touted as a blues releaese and Wilde fancies herself a blues artist with a passion for the idiom. The passion may well be there but the execution on Shine is not.
I'm not one of those blues fascists who uses a slide rule or complicated algorithm to determine when a song or album has reached the minimum requirements to be called blues. There has to be elasticity and individuality in the genre or we need to call everything after Muddy Waters' last single for Chess something else (and there are some who'd draw that line further back). I'm not afflicted by such nonsense but what we have here doesn't hit the blues mark hard enough or often enough.
So I listened again and cast aside labels and genres and focused on the record. That helped but not enough because there's not a lot of identity in the music with or without a label.
Wilde wrote nine of the 11 songs and the material often sounds like the 20-year old is writing about the life she anticipates rather than what she's already experienced when it comes to love and loss. Her voice is pleasant but often thin and there's not a lot of variation in her vocal attack and there are times her phrasing is just all wrong ("Some Kinda Crazy"). What variation there is often comes in the form of oversinging.
There are some fine moments on the record, like "Abandoned Child." The song is inspired by time Wilde spent visiting an orphanage in Africa and spending time with many of the children. The impact of the time spent there can be felt in her vocal and the guitar solo, which plays like an homage to one of Wilde's inspirations, Suasn Tedeschi.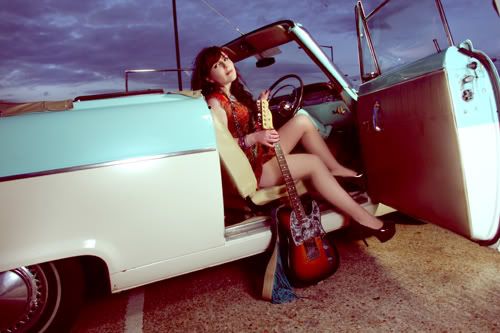 There's also the harp work from her brother Will on the title track and the guest appearances from Laura Chavez on two tracks. Wilde lays down a gritty, intense solo of her onw on "Don't Give Up On Me" that rates as one of the most interesting moments on the record. The lyrics and vocals on "Some Kinda Crazy" don't work but Wilde and Ben Poole fire off guitar solos that give the song a little life. "Where Blue Begins" fits Wilde's voice about as well as any song on that album and features another strong guitar lead.
Wilde gives her all but there are only a few breaks in the clouds on Shine.