When talking about Philadelphia soul, one name immediately leaps to mind: Teddy Pendergrass. His gospel-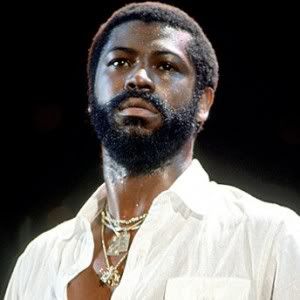 meets-disco-meets-raw soul sound played a crucial role in numerous Philadelphia International hits, many penned by the legendary Kenny Gamble and Leon Huff, songwriting/producing team and co-founders of the Philadelphia International label. As a member of Harold Melvin and the Blue Notes and as a solo artist, Pendergrass scored an impressive number of hits and established himself as a bona fide 1970s sex symbol. It presents quite a challenge to choose just one Pendergrass classic, but an underrated dance and R&B classic fully demonstrates his powerful, sensual voice: 1977's "You Can't Hide from Yourself."
After a turbulent tenure with Harold Melvin and the Blue Notes—despite experiencing enormous success with singles such as "If You Don't Know Me by Now," "Wake Up Everybody," and "Bad Luck"--Pendergrass later re-signed with Philadelphia International as a solo artist. Few could have predicted the out-of-the-box success of his debut album, 1977's Teddy Pendergrass, but it became a solid hit on the R&B and Billboard 200 charts due to the singles "I Don't Love You Anymore," "The Whole Town's Laughing at Me," "The More I Get, the More I Want," and of course "You Can't Hide from Yourself." The album's success may not be that surprising, as Pendergrass attracted the era's best producers and songwriters, along with one of the funkiest backing bands ever, MFSB. The result is a still-astoundingly lush production which perfectly cradles Pendergrass' deep, raspy vocals.
From the start, "You Can't Hide from Yourself" announces its presence with a loud blast of horns. The instantly recognizable string section brands the track as a distinctly Philly soul production. The funky drums function as the motor that propels the danceable rhythm, yet the lyrics encourage the listener to do more than dance. Instead, the words urge reflection and self-assessment, very much in the vein of "Bad Luck." Instead of commenting on current events, this time Gamble and Huff turn inward, positioning the soul singer as the voice of conscience: "You can't hide from yourself/ Everywhere you go/ There you are," the chorus croons. The best part occurs when the band drops back a bit, allowing Pendergrass to ad lib:
You can't hide, you can't hide

Look in the mirror, there you are

You may run, but you can't hide

You can't hide brothers, you can't hide

You can't hide sisters, you can't hide

You can't run from yourself, no no
Suddenly, an incredible dance tune turns into a disco-infused sermon, with Pendergrass playing the role of funky preacher. Here his gospel roots are evident, adding to the song's passion and earnestness. It's Philly International at its best, fusing dance with symphonic elements and socially conscious lyrics. Even more important, it illustrates Pendergrass' ability to wring great emotion from words; it's a tour de force performance in the guise of a disco song.
Everyone knows Pendergrass' story—after racking up numerous R&B hits, Pendergrass became paralyzed after a 1982 automobile accident. While he managed to record again, he never regained his massive popularity, and his health problems forced him to the sidelines. He died January 13, 2010 due to complications from colon cancer surgery, but his music and influence lives on in such modern artists as Jaheim and, in the sex symbol department, Usher.
For best results, play "You Can't Hide from Yourself" at top volume, close your eyes, and immerse yourself in those piercing horns, lush strings, and rich, evocative voice.