Since Saturday, much has been written about the late Whitney Houston. Her addiction to drugs and alcohol ultimately robbed her of her voice, image, career, and life. While her spectacular fall overshadowed her talent for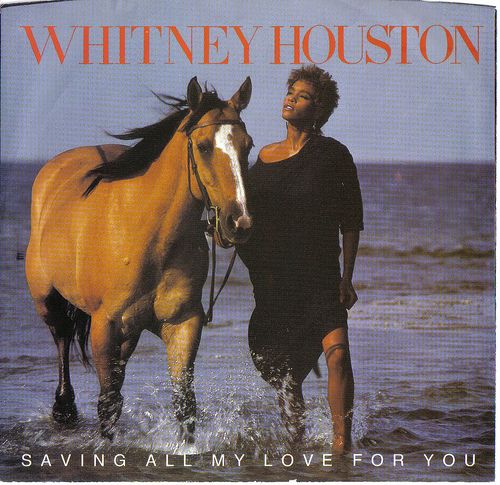 the past ten years or so, her powerful instrument will serve as her legacy. Her untimely death obviously overwhelms her fans and family with grief, but it has also prompted listeners to pull out their Houston albums and reminisce about her onetime reign over pop music. Many would cite "I Will Always Love You" as her greatest performance; while that certainly ranks among her best, "Saving All My Love for You" perfectly showcases the many layers of her voice and how she could convincingly communicate the lyrics' emotions.
Houston's memorable performance has indelibly made the track "her song," but the tune actually dates back to 1978. Penned by songwriter/producer Michael Masser and famed composer Gerry Goffin (best known for his work with former wife Carole King), the track first appeared on Marilyn McCoo and Billy Davis Jr.'s album Marilyn & Billy. Fast-forward to the early 1980s: Arista CEO and starmaker Clive Davis invited Masser to attend a Houston concert at a New York nightclub. According to AllMusic, Houston sang "The Greatest Love of All," one of Masser's compositions. After the show, Houston told Masser how much she loved the song. Subsequently Arista chose Masser to produce some tracks for Houston's debut album; he selected "The Greatest Love of All" and resurrected "Saving All My Love for You," which he dubbed a "woman's song" that any female could relate to.
Once Whitney Houston appeared in 1985, "You Give Good Love" became the first smash hit single. When Masser heard that Arista wanted to choose a song for the next single, Masser approached Davis with an unusual proposition. During her next performance at the Roxy in Los Angeles, if female audience members rose to their feet after Houston crooned "Saving All My Love for You," then Davis must choose that track for the next single. The rest is history: "Saving All My Love for You" shot to number one on the Billboard Hot 200 and Adult Contemporary charts, and earned her a Grammy for Best Female Pop Vocal Performance. It also announced the arrival of a bona fide superstar and an unusually gifted singer.
While still a young and developing artist, Houston croons the words like a seasoned performer. She begins in a softer, lower register, acting out her dilemma: "A few stolen moments is all that we share"
You've got your family, and they need you there." But her voice gradually increases in volume, belting out the line "But no other man's gonna do." Despite sounding confident about her feelings, she tempers her voice once again during the bridge: "You used to tell me we'd run away together/ Love gives you the right to be free." Her subtle performance of these lines effective communicates that she knows the affair is wrong and will probably end in unhappiness. But the confidence and power returns when she reveals that "'Tonight is the night, for feeling all right/ We'll be making love the whole night through." As the song fades out, her voice soars on the "saving all my love for you" line, sounding like she has made her decision: despite the risks, she is standing by her man.
Masser wisely chose a simple arrangement, dominated by keyboards and Tom Scott's sensual saxophone solo. Houston's emotional performance rightfully assumes the lead role, her voice acting out this drama in front of the listener. Unlike many of her other hits, "Saving All My Love for You" let Houston illustrate why she was a respected singer and interpreter that ranked above other female vocalists of the time. It signaled the arrival of a major star who would influence (for better and worse) future divas for years to come. Sure, the incredible notes she hits on "I Will Always Love You" remains impressive. But "Saving All My Love for You" best illustrates how she could manipulate her voice for dramatic effect, leading to a unique interpretation of a now-classic love song.