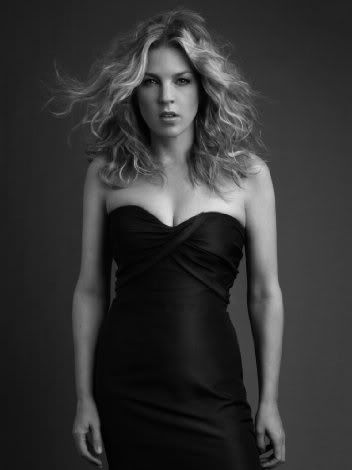 Grammy-winning jazz vocalist and pianist Diana Krall and her band are hitting the road for an extensive U.S. tour this summer, her longest venture in three years.
Krall will play a handful of March dates on the East Coast before launching the major trek in June at Baltimore's Meyerhoff Symphony Hall. She'll hit 40 cities by the time she's done, finishing with a two-night stand in Woodinville, WA.
She and her band Anthony Wilson (guitar), Robert Hurst (bass), and Karriem Riggins (drums) recently helped back Paul McCartney on his love standards album Kisses On The Bottom (and I hope the title wasn't her idea and I'm pretty sure it wasn't).
No word on a new studio album so Krall fans can probably expect to hear a load of their favorites from throughout her career on this summer's tour. See below for the full run of dates.
Diana Krall Summer Nights U.S. Tour:
3/22 - Durham, NC - Durham Performing Arts Center
3/24 - Key Largo, FL - Ocean Reef Cultural Center
3/26 - West Palm Beach, FL - Kravis Center for the Performing Arts
3/27 - Sarasota, FL - Van Wezel Prof. Art Center
3/28 - Clearwater, FL - Ruth Eckerd Hall
3/30 - Virginia Beach, VA - Sandler Center for the Performing Arts
3/31 - Newport News, VA - Ferguson Center
6/19 - Baltimore, MD - Meyerhoff Symphony Hall
6/21 - Vienna, VA - The Filene Center
6/22 - Rochester, NY - Kodak Hall at Eastman Theater
6/23 - Lenox, MA - Tanglewood 6/26 - New Brunswick, NJ - State Theatre
6/27 - Lancaster, PA - American Music Theatre
6/29 - Hyannis, MA - Cape Cod Melody Tent
6/30 - Cohasset, MA - South Shore Music Circus
7/01 - Saratoga Springs, NY - Saratoga Performing Arts Center
7/03 - Williamsport, PA - Community Arts Center
7/06 - Chautauqua, NY - Chautauqua Institution Amphitheater
7/07 - Ocean Grove, NJ - The Great Auditorium
7/08 - Bethlehem, PA - Sands Bethlehem Event Center
7/11 - Atlanta, GA - Chastain Park Amphitheater
7/12 - Greenville, SC - Peace Center For the Performing Arts 7/13 -
Nashville, TN - Schermerhorn Symphony Center
7/15 - Louisville, KY - The Kentucky Center-Whitney Hall
7/16 - Milwaukee, WI - The Riverside Theater
7/17 - Highland Park, IL - Ravinia Pavilion
8/05 - Beaver Creek, CO - Vilar Performing Arts Center
8/06 - Denver, CO - Denver Botanic Gardens - York Street
8/08 - Salt Lake City, UT - Red Butte Garden Amphitheatre
8/10 - Pala, CA - Pala Casino - Starlight Theater - - -
8/11 - Indio, CA - Fantasy Springs Resort Casino - Special Event Center
8/13 - Las Vegas, NV - The Smith Center for the Performing Arts - Reynolds Hall
8/15 - Livermore, CA - Wente Vineyards
8/16 - Saratoga, CA - The Mountain Winery
8/18 - Lincoln, CA - Thunder Valley Casino Resort - Outdoor Amphitheatre
8/21 - Turlock, CA - Turlock Community Theatre
8/22 - Hanford, CA - Fox Theatre
8/19 - San Francisco, CA - Davies Symphony Hall
8/24 - Los Angeles, CA - Hollywood Bowl
8/25 - Los Angeles, CA - Hollywood Bowl
8/26 - Santa Barbara, CA - Santa Barbara Bowl
8/28 - Santa Rosa, CA - Wells Fargo Center for the Arts
8/29 - Jacksonville, OR - Britt Pavilion
8/31 - Portland, OR -Arlene Schnitzer Concert Hall
9/01 - Woodinville, WA - Chateau Ste. Michelle Winery -
9/02 - Woodinville, WA - Chateau Ste. Michelle Winery