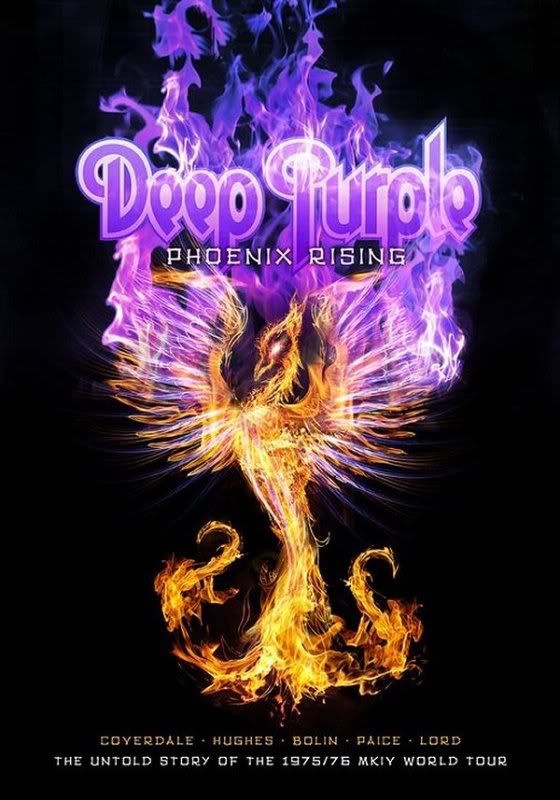 Deep Purple is a band with an often volatile history, none more so than its ill-fated Mk. IV lineup. Guitar god Ritchie Blackmore was out and American axe-slinger Tommy Bolin was in. Their history is documented in Deep Purple: Phoenix Rising.
The idea that this is purely a Mk. IV documentary however is misleading. It's more about the entire Mk. II-Mk. IV history of the band from Ian Gillan and Roger Glover leaving to Glenn Hughes and David Coverdale joining to Blackmore leaving to Bolin joining to the band's ultimate demise in 1976. The history is told via new interviews with Glenn Hughes and Jon Lord and through archival footage. Sadly, there are no new interviews with Coverdale or Ian Paice or even Blackmore to truly tell all sides of the story.
The DVD begins with Glenn Hughes talking about various members of Deep Purple coming to see his previous band, Trapeze, live. He learned that Gillan and Glover were out and was asked to be the band's bassist. Hughes was taken aback as he was also a singer, but was under the impression that Paul Rodgers was going to become the new front man. That, of course, didn't happen and an unknown Coverdale was brought in to replace Gillan.
The band recorded their first album, the highly successful Burn, and soon headlined the California Jam before 250,000 people. Lord comments that he liked the Burn album as it retained elements of the older versions of the band while moving their sound forward.
Things began to go south for the band with their next release, Stormbringer. Blackmore didn't come to the sessions with much new material and didn't care for the direction much of the other material took. At the same time, Hughes' drug problems started affecting his performances. Seeking a new direction, Blackmore left the band.
Rather than split up, the band decided to forge on with new guitarist Tommy Bolin. They were fans of his work with Billy Cobham and for the flamboyant attitude he brought to their live shows. They were also unaware he was a drug addict. This, along with Hughes' worsening dependency led to some erratic live performances. What started off as a promising tour ended with the death of a crewmember and the end of Deep Purple for eight years.
While Hughes' accepts all the blame for his drug use, much of his interview segments are dedicated to it. And while that certainly was a factor in the band splitting up, it was not the only factor. It would have been great to get Coverdale's insights on this period of the band as well.
The DVD includes the 30-minute concert film Deep Purple Rises Over Japan, which is touted as being never before released. It was, however, available on VHS for a short period a while back in Japan. There isn't much footage from this period and Bolin's playing is compromised (It is blamed on him getting some morphine from a shady promoter and falling asleep on his arm). The rest of the band has to cover for him and do so admirably with Lord and a bearded Coverdale especially picking up the slack. In addition, there is an electronic press kit for Come Taste The Band as well as interviews with Lord and Hughes regarding their ill-fated trip to Jakarta, Indonesia in 1975.
Also included is a live CD comprised of tracks comprised from the Japan show as well as ones from Long Beach including a blistering take on "Burn" and Hughes' over the top version of "Georgia On My Mind," a reproduction of a Deep Purple magazine from 1976 and a detailed book with rare photos and a history of the Mk. IV version of the band.
While there is plenty here to satisfy most Deep Purple fans, interviews with all of the principles would have really made this a great collection. Still, it is an interesting look at an underrated period in this great band's career and worth a look.