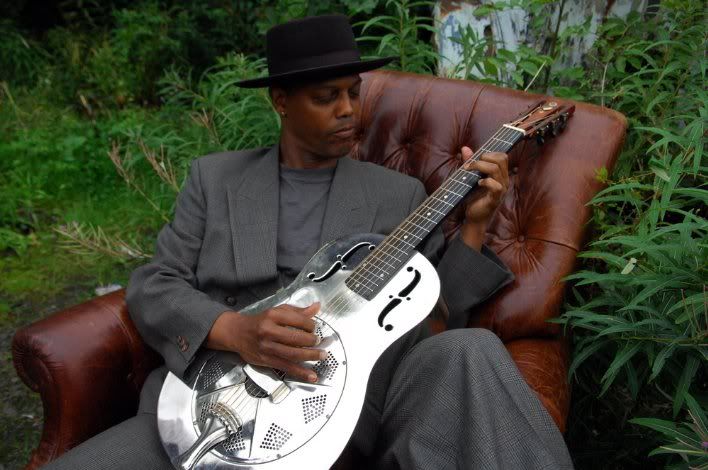 The amazing Eric Bibb will release his first album with Canada's Stony Plains Record on March 27 when he issues Deeper In The Well.
The 13-track set was recorded in four days last September and features Bibb originals as well as covers of Bob Dylan's "The Times Are A-Changing" and Taj Mahal's "Every Wind In The River." The disc was recorded in Louisiana, where he co-produced the album with Michael Bishop and Matt Greenhill and was joined by multi-instrumentalist Dirk Powell, Cedric Watson (fiddle), drummer Danny Devillier, and Grant Dermody (harmonica). There are also guest appearances from Michael Jerome Brown (who also appeared on Bibb's Friends CD), Jerry Douglas, and Christine Balfa.
This new set follows Bibb's last studio release Booker's Guitar in part a tribute to Delta blues great Bukka White and his wonderful live album in support of that record Troubadour Live. I fell in love with both of those records, which served as my introduction to Bibb. I've since added a few more to the collection.
Bibb has been nominated for Grammys and Blues Music Awards and is truly one of the most gifted singer/songwriters in any genre, crafting songs with a bounty of roots-music influences. He'll be lining up tour dates in support of this album, and I'm hoping he finds a nice, intimate venue somewhere nearby.
Here's the complete tracklisting for Deeper In The Well:
Bayou Belle
Could Be You, Could Be Me
Dig A Little Deeper In The Well
Money In Your Pocket
Boll Weevil
Sinner Man
In My Time
Music
Movin' Up
No Further
Every Wind In The River
Sittin' In A Hotel Room
The Times They Are A Changin'