Eric Clapton & Wynton Marsalis' collaboration Play The Blues: Live From Jazz At Lincoln Center got me to thinking about all the time I've been spending on Turntable.FM, particularly in the Folk/Americana/Blues/Soul: It's All Connected room, because if this album achieves nothing else, it furthers the truth so much of the music we love can be connected if we trace the roots.
This project taken from three performances offers fantastic performances in addition to its academic and intellectual values. Clapton and Marsalis master musicians of their respective instruments are joined onstage by Dan Nimmer (piano), Carlos Henriquez (bass), Ali Jackson (drums), Marcus Printup (trumpet), Victor Goines (clarinet), Chris Crenshaw (trombone, vocals), Don Vappie (banjo) and Claptonís longtime keyboarist/sideman Chris Stainton.
Marsalis tells us in the liner notes the project was a mutual passion but Clapton took on the role of bandleader and selected the majority of the material performed, the lone exception being Clapton's own "Layla" (requested by bassist Carlos Henriquez).
Clapton selected several blues numbers of different periods and origins and what's exciting and at times disappointing is how well this group of fantastic musicians channeled those songs through the filter of a New Orleans-styled jazz and swing motif with blues accoutrements. The concept is exciting because these arrangements are radical departures from the way contemporaries play them if they know them at all and the precision and skill in these performances is impeccable.
The disappointment comes because the radically different approach from other musicians doesn't hold up as strong when the overall sound is compared from one song to the next. Listen to Louis Armstrong's "Ice Cream," Howlin' Wolf's "44" (and not one of the 10,000 average covers of it- listen to Wolf's!), and choose a favorite version of "Joliet Bound." The original/classic version of these songs sound so different from one another. Those differences are less prominent when played next to one another by Clapton, Marsalis, and their band.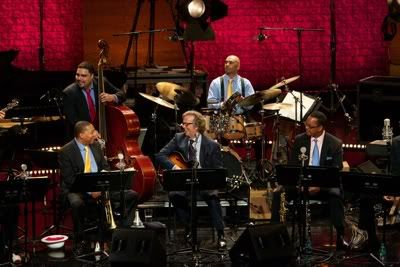 It's lazy to say everything on this sounds the same; it doesn't! Careful, active listening reveals nuances in the rhythms and interplay and even casual listeners will hear differences in the tempos and vocals but enough of a sameness exists throughout, diminishing the impact slightly. Taj Mahal revives things with a dose of grit and vigor on "Just A Closer Walk With Thee" and enthusiasm for "Corrine, Corrina," providing a marvelous close to the show/album.
It could have been more but there is a lot of knowledge, love, and passion for music in general and specifically this music that shines through and gives Plays The Blues a charm that validates and recommends it.