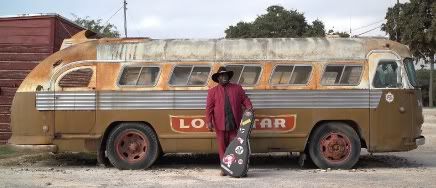 Rock And A Hard Place is the 2011 release from bluesman Eugene "Hideaway" Bridges, a Texas-based nomad with family ties to the legendary Tina Turner who has been playing guitar since he was a child and touring on his own and with other bands for years now, releasing his first solo album in 1998.
Bridges first came on my radar two years ago in Memphis on my first trip to the Blues Music Awards when he sat in with Nick Moss and his Flip Tops at the 2nd annual Nick Moss All Star Jam at the Rum Boogie Cafe.
He was in Memphis again last year, this time performing during the ceremony and with this latest release it's a safe bet he'll be there again, having been nominated 3 times for, among other things, Album Of The Year.
Rock And A Hard Place does a remarkable job of balancing musical diversity and cohesion, with the amiable Bridges holding it all together in a way that makes the differing styles make sense in a politely enjoyable way. The set could have used a little trimming at the elongated runtime of 15 songs and 57 minutes and the diversity and charm wouldn't have suffered much, if at all, but everything here is pleasant even if getting from beginning to end requires just a bit of effort.
Bridges is a strong vocalist who connects without trying so hard to convince us of his earnestness. He doesn't strain or growl to prove a point and he sings to us, not at us. The same is true of his playing. He's a capable guitarist but his solos are compact, free of needless noodling, with only one of the 15 songs exceeding the five minute mark.
The strongest material on the record comes in the midsection, with the run of songs from "It's Gotta Be The Last Time" through "It Had To Be You." "Last Time" is the most aggressive track with an edgy, growling, rumbling bass and rhythm pierced by some sweet lead from Bridges.
"It Will Not Stop" and "Dance With You" brim with sweet soulfulness and the charming, retro, '70s-styled overdubbed backing vocals. "Stop" finds our protagonist aching for a lost love but it is far from the rote, generic exercises so common in with this particular theme. Bridges sings as the heartbroken man but there is a sweetness and resilience in his voice; he's down now but this is one of the good guys and he will find a new love. "Dance" is a romantic slice of Southern sweetness without morphing into saccharine sappiness.
I have tried so hard to figure out where I think I know "It Had To Be You" from because this isn't the same song as the crooner classic of yesteryear but it feels like a song I've heard many, many times. Yes, I guess that means it lacks a little in the originality department if I think I've heard it before I heard it but it's still quite endearing.
We get an instrumental from Bridges and his band with "45 Jump," a song that blends vintage Sun Records-style rockabilly with classic Texas swing. Speaking of his home state, "Long Way From Texas" is a countrified, Southern road ballad that takes on a hint of the Allman Brothers Band staple "Ramblin' Man" and sports a nice bit of pedal steel from bandmate Lloyd Maines. It's a good listen as is Bridges' tribute to the immortal B.B. King, but these are a couple songs that add very little to the overall quality of the record and serve only to lengthen it.
Win or lose in May, Bridges' time has clearly arrived. Rock And A Hard Place is a strong collection of tunes and establishes him as one of the more enjoyable performers of contemporary soul-infused blues.