"I played records,
the kids danced,
and America watched."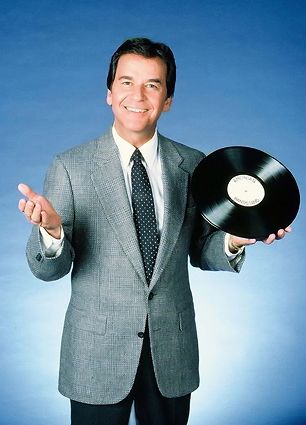 Dick Clark once uttered these words to explain American Bandstand's longtime success. This deceptively simple assessment of the legendary show, which he hosted from 1952 to 1989, barely scratches the surface of Clark's impact on popular music. He introduced generations of teenagers to emerging artists, helped turn records into hits, and showcased camera-ready teens showing off the latest dance moves.
Growing up in the 1980s, I counted American Bandstand among the "can't miss" Saturday morning TV shows. Chicago did not receive basic cable until about 1986, so there were few places for kids to see the latest artists. To fill in the gap, we turned in to the affable Clark every weekend to see the acts we'd only heard on the radio. Most of the biggest bands appeared on the show, knowing that such important exposure could guarantee them at least one hit. For viewers, it was at times their first look at emerging superstars. Who could forget Clark interviewing a very young Madonna, when she informed him that her goal in 1984 was "to rule the world"?
Clark presided over other show segments, including the infamous "Rate A Record" where two randomly chosen teens in the studio would listen to two new songs, then each rate them on a scale of 35 to 98. The cliché "it's got a good beat and you can dance to it" arose from this part of the program; while this seems humorous now, those ratings would help make or break a song. Clark would hang on to the couple's every word, appearing to take their opinions very seriously. Indeed, that was part of his appeal—he never talked down to the kids, even sitting with them while introducing the next act. He would joke with the teens sitting around him, and their beaming faces illustrated how much they liked him. Even when he exchanged only two words with audience members after the "Spotlight Dance" segment, when three couples showed off their best moves, they seemed charmed by his smile and friendly, joking manner.
Before MTV hit Chicago and other markets, American Bandstand was one of the best sources for seeing favorite artists and, occasionally, a music video. Sure, the bands lip synched to their latest hits, but just seeing what they looked like was a thrill in itself. Clark clearly wanted to present various music genres—a list of artists who appeared on the program ranges from John Travolta to Run DMC. Nowhere else today could one find such a wide variety of acts on one show or even a single radio station. Cable and music video channels such as MTV and VH1 ultimately overtook dance and variety shows like American Bandstand, Soul Train, and Solid Gold; today, teens discover music through the Internet. Dick Clark's death also marks the definite end of an era, a time when multi-genre artists appeared on one program, hosted by a man who truly cared about the music. Saturday mornings—and the music business—will officially never be the same.
For a treasure trove of American Bandstand clips, visit Dick Clark Productions' YouTube channel.