This is the seventh year in a row that I have done a year-end list of Favorite Albums and I have to confess that this one was difficult. It wasn't difficult in the sense that not enough good music came out in 2011 but the opposite instead. Once the year started, it never seemed to let up as some sort of quality music came out week after week. There are 16 albums on my list this year. I started out with nearly double that (and that doesn't even count my list of 2011's Best EPs).
The albums are listed in alphabetical order by artist.
Basement Jaxx vs. Metropole Orkest: When popular artists collaborate with an orchestra, the results can be mixed. Fortunately, Metropole Orkest's take on the music of Basement Jaxx works surprisingly well. The arrangements range from purely orchestral to merely orchestral accompaniment. Still, the album (which was recorded live) gives you a new appreciation for the duo's work. Must hear: "Where's Your Head At?"
Beastie Boys – Hot Sauce Committee Part Two: There's something to be said for doing what you're good at and that's exactly what Beastie Boys do on this album. It's just so nice to hear the guys doing their brand of hip-hop with as much creativity and energy as ever. Stellar guest stars like Santigold and Nas only add to the proceedings. Must hear: "Too Many Rappers (New Reactionaries Version)" (BBS Review)
The Chemical Brothers – Hanna Original Soundtrack: I can't believe it took this long for the Chemical Brothers to score a movie. With this score, the duo get the opportunity to do more than make you move your feet and they succeed with flying colors. They do just a good job creating a haunting atmosphere as they do ratching up the intensity. Must hear: "Container Park"
Clams Casino – Instrumental Mixtape: I have to admit that I had never heard of Clams Casino before downloading this mixtape of his beats. After listening to this, I wish I had heard of him sooner. I love hip-hop instrumental albums and this one is unlike anything I've heard before. It's an album you could bump in your car and enjoy with headphones. If you want to check it out this self-released mixtape, just do a search online. Must hear: "Realist Alive"
Coldplay – Mylo Xyloto: At this point in their career, Coldplay could just slap something out there and it would sell. I'm glad that they still actually try. This album is like an old T-shirt you have. It's not the "best" thing you own but it's comfortable, it doesn't have any holes in it, and you'd rather wear it than some of the other clothes you own. Must hear: "Paradise" (BBS Reviews: 11|Jay)
Common – The Dreamer/The Believer: How does Common follow up one of his worst albums? By reteaming with the producer of his early work and making one of his best. Common sounds positively rejuvenated on this album, produced entirely by No I.D. The dual title makes perfect sense. Only Common could feature both Maya Angelou and Nas on the same album. Must hear: "Celebrate"
Danger Mouse and Daniele Luppi – Rome: Thank goodness there isn't actually a movie to accompany this album...I'm not sure the movie would live up to it. Actually, it's a miracle the instrumental portions of this album hold up against the excellent vocal tracks with Jack White and Norah Jones. Danger Mouse has come a long way from mashing up Jay-Z and The Beatles. Must hear: "Two Against One"
Florence and The Machine – Ceremonials: The way Florence Welch sings on this album, you just know she got over any thoughts of a "sophomore slump" by sheer force of will. This is a big album with big vocals that never seems to feel too big. The Deluxe Edition of this album is over 72 minutes long but rest assured, you'll enjoy every minute. Must hear: "What The Water Gave Me" (BBS Review)
Giraffage – Comfort: This artist made an appearance on my Favorite EPs list (as did Clams Casino) and now his full-length appears here. The playful nature of the music is still there but you can also hear some growth as well. What I especially like is the way other genres sneak in. The song "Visible" flips R & B in a fun, fresh way. It's available to download from Bandcamp. Must hear: "Visible"
The Go! Team – Rolling Blackouts: I think it's best to think of the albums of The Go! Team not as separate individual works but as a movie and its sequels. All three of their albums, this one included, never sound like anything other than a Go! Team album. Yet, like a movie sequel, this album keeps things fresh by going to places the others didn't. If this is the last Go! Team album (as rumored), it's a fitting ending that moves things forward and takes things back at the same time. Must hear: "Secretary Song"
Jay-Z & Kanye West – Watch The Throne: I was kind of expecting this album to be awful. There was no way this album could've lived up to its potential, especially since both artists were coming off good albums. While Watch The Throne is not greater than the sum of its parts, it's better than it has a right to be. The two of them sound good together, they take some chances musically, and they sound like they're enjoying themselves. Must hear: "Ni**as in Paris" (BBS Review)
The Lonely Island – Turtleneck and Chain: If making good comedy is hard then making good comedic music must be damn near impossible. Somehow, the guys of The Lonely Island make it look easy. The one thing I really like about this album is the way the group makes fun of music cliches. They turn things like the boastful hip-hop intro ("We're Back!"), the musical tribute to mothers ("Mama") and song about a dance ("The Creep") on their ear with hilarious results. Must hear: "We're Back!"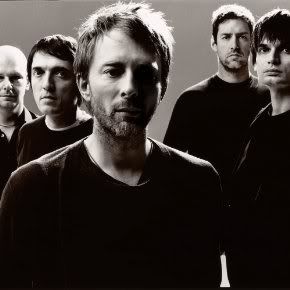 Radiohead – The King of Limbs: The song "Lotus Flower" from this album is part of the music rotation where I work. This means that I usually hear this song once a day, every single day I work. The fact that I'm not sick of it is testament to its quality and the album's quality as well. I really like the return of more electronic textures (thankfully not obscuring Thom Yorke's voice) as well as the grooves that find their way through. Must hear: "Little By Little" (BBS Review)
The Roots – undun: The Roots are nothing if not ambitious. This concept album tells the story of the death of a fictional young man...in reverse. I'm still digesting this album even as I write but it's just too damn good to leave it off this list. I will be listening this one well into 2012. Must hear: "Make My"
St. Vincent – Strange Mercy: This album is the first thing I've listened to from this artist and I definitely like it. The combination of elements is really interesting. You've got Annie Clark's soft voice contrasting with some decidedly dark lyrics. Then, you've get bursts of her angry guitar and very nice arrangements. The whole package is quite fun to listen to. Must hear: "Surgeon"
Shabazz Palaces – Black Up: Tired of cookie-cutter hip-hop? This is the album for you. This duo, featuring a former member of Digable Planets, makes hip-hop as compelling as it is different. Song structure is played with, lyrics are sometimes obtuse, and the song titles have more words than other artists' entire songs. Must hear: "An Echo From The Hosts That Profess Infinitum"