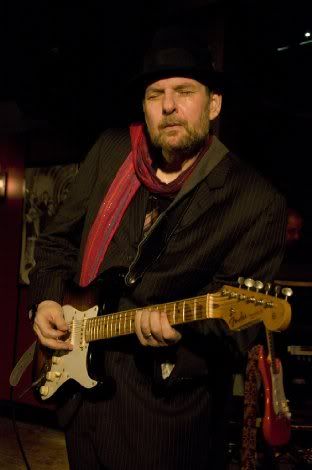 I am a lifelong wannabe guitarist, which has led me to admire and obsessively listen to nearly every guitarist of note at one point or another. If he or she has been proclaimed a GuitarGod or Greatest Guitarist Ever, I likely own at least one of their albums. I've conferred those titles on many through my decades of listeing. Some of my recipients -- Stevie Ray Vaughan, Steve Vai, Joe Satriani, Otis Rush, Duane Allman -- are still worthy of being included in any discussion of the all-time greats. Some of my answers are best forgotten.
After years of falling in and out of love with these players, I gave up the quest to proclaim one guitarist to be TheGuitarist. The discussions and arguments were fun from a fanboy perspective but I was convinced there was plenty of room at the table for all the greats and besides, you couldn't answer the question anyway.
I've once again changed my mind on that. Yes, there is still plenty of room at the table but said table is no longer round. There is one man who sits at the head of it and his name is Ronnie Earl. He has chops, looks, and the capacity to dazzle. He can melt your face with the white-hot intensity of his playing but he's more than magician with his instrument; Ronnie Earl is a virtuoso in the art of expression and a master communicator. The guitar is an extension of him and the medium by which he speaks. He's a technician, the Tao of Tone, and the most emotional and expressive player on the whole damn planet.
This clip below is from a recent performance at a blues festival in the northeast, which is where all his live work is done these days. I'm going to have to find my way that direction because it's doubtful he's coming mine. If I were king for a day, he and his Broadcasters would do a residency at Ryman Auditorium in Nashville. Until then, admire this clip captured by an audience member and then go buy his Spread The Love record, one of the best of 2010 and quite possibly of his distinguised career.