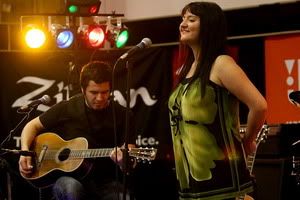 I'm very excited because last night the video to one of my favorite songs of 2011 got its official online premiere and we are going to share it with you.
Gina Sicilia's third album Can't Control Myself is a terrific work of modern blues and R&B. She's really growing as a songwriter and vocalist and the record is a quality listen from beginning to end, but it's that beginning that is something extra special.
"Addicted" is a an undeniably catchy song that won't let go. It's swanky, gritty, sassy, sexy, and fun. She captures the allure of danger in word and with a warm, rich vocal that sells the song. She's aided brilliantly by her partner-in crime Dave Gross, a fantastic Swiss Army knife of musicianship (seriously, is there any instrument this guy can't play?).
Indie and blues artists -- and try being both -- rarely get to make videos, so just the existence of this is cool. It's also great to give you a chance to (legally) hear a song I've been wanting to share with you and have listened to nonstop since early this winter. Tanya Ryno's video takes it a step further, capturing well the essence of the song. So, boys and girls, turn up the volume on your computer and get ready to be charmed by Gina Sicilia's great "Addicted."