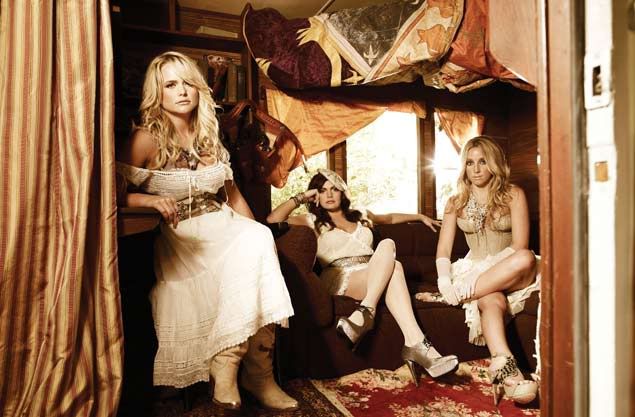 Miranda Lambert has a new girl group called the Pistol Annies which also includes singer/songwriters Angaleena Presley and Ashley Monroe. The Annies have officially released the single "Hell On Heels" (available now for digital download) from their album of the same name which is available August 23 on CD and at digital retailers. They're currently streaming many of their songs through an online scavenger hunt, details are on their website.
In case you're wondering how this slipped under your radar, don't worry – they're a fairly new act and they only had their first public performance as a group at the Academy of Country Music's "Girl's Night Out" in April when they barely had six songs put together. Fueled, no doubt, by Miranda Lambert's name and reputation as an award winning solo artist and songwriter with three successive #1 albums, there was a lot of Annie buzz right out of the gate.
People were mostly looking for information on the "new girls" Monroe and Presley who, between the two of them, had been working Nashville's Music Row for the better part of the last decade. Monroe had also worked on projects with famed indie-rocker/producer Jack White (White Stripes, Raconteurs) and released a major-label debut, while Presley has an exceptional album of her own waiting for a proper home. Monroe actually co-wrote two songs off Lambert's 2009 album, Revolution, including the chart topping "Heart Like Mine." The songs they wrote that night were quality, album worthy-material just not quite right for either of them solo. Thus, with a quick call to Ashley's good friend Angaleena Presley, a spark was ignited, and the Pistol Annies quickly began to take shape.
The Annies' first single "Hell On Heels" is a "shame on you men for letting us abuse you like this" song that is slow and sultry and feels like a warning bu, no man would be able to resist giving these three exactly what they want just for a few hours of their time and attention. The opening line:
"I'm hell on heels, say what you will
I done made the devil a deal
He made me pretty, he made me smart
And I'm gonna break me a million hearts
I'm hell on heels, baby I'm comin' for you" gives each girl their distinct personality; pretty, smart, and the heartbreaker. This is the country version of riot grrls and it's a fun ride from start to finish. My favorite verse comes from Monroe whose angelic voice delivers the line:
"Then there's Jim, I almost forgot
I ran him off, but I took the yacht
Poor old Billy, bless his heart/
I'm still using his credit card
I'm hell on heels, sugar daddy I'm comin' for you"
with triumph and maybe a little touch of regret. Maybe not.
Their first video combines gritty, home movie style footage, backstage and performance clips resulting in a quick, fun to watch three minutes, that portrays these lovely ladies as almost slightly bored outlaws, regaling us and each other with tale of their conquests. Video director, Becky Fluke, does a beautiful job of enhancing the song and introducing us to the Annies. I'm reviewing Hell On Heels, so check back and see how the other nine songs stack up against this sassy, solid, Pistol Annies debut single.