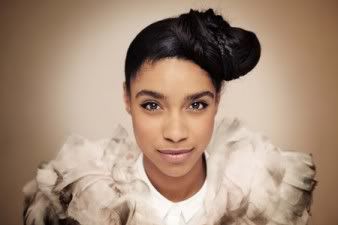 Today is singer/songwriter Lianne La Havas' birthday and -- coincidentally or not -- she has a brand new video for the track "Forget" from her debut Is Your Love Big Enough?
I mentioned La Havas recently as my newest musical obsession, following closely on the heels of another amazing British singer/songwriter, Michael Kiwanuka and his beautiful debut Home Again. I'm working on my full and proper review of her album and hope to have it finished and published in the coming days. In the meantime, it is her birthday and she has a new video and the video is for one of my favorite songs on the record, so let's talk about it.
There was a time when videos were called promo videos (some people still use this term) and there is more than a fair amount of "product placement" in this video, calling attention to her new album but somehow advertising seems much less odious when it's promoting something great. It's done with a pinch of salt but ironic self-promotion is a tough sell (just ask Bono).
"Forget" is a fascinating song. If you get the deluxe edition of the album, you get to hear it in the version presented in the video as well as a solo acoustic performance of it. The studio/video version has some modern production flourishes but not an excessive amount of processed beats or electronic noise. I'll be surprised if this song doesn't get remixed a few times for play in clubs and on more urban/hip hop-oriented stations. It could work with that treatment just as it does as its presented here and in the stripped, spare, acoustic arrangement. Versatility isn't the only hallmark of a great song but it's one of them and "Forget" has that because La Havas gives so much as a vocalist and the lyrics have the right amount of bitterness and sass with an undercurrent of hurt.
So, happy birthday to the lovely, talented Ms. La Havas. Thank you for one of the breakthrough records of 2012. It is a spellbinding work and I will get a review of this on the site soon because I still have so much more I want to say about Is Your Love Big Enough?