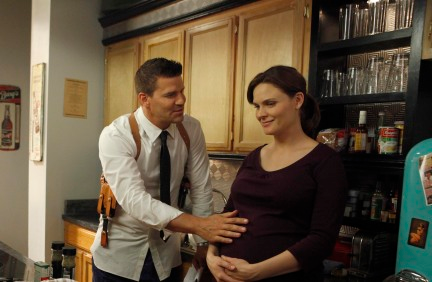 And now for something almost completely different...
My wife and I are huge fans of the TV show Bones. We didn't get in on the ground floor but we've faithfully watched every episode -- most of them more than twice -- and own every season on DVD/Blu-ray. There's something about we love, made a little more special because it's something we love together. Other people go rock climbing or ballroom dancing. Not us. We hole up in the living room with one of the cats (usually our deaf, developmentally disabled boy Rowdy) and relax to a TV show that entertains and amuses us (along with a cat that does the same). It's "our" thing, and we're excited about it tonight (along with another episode from the revived Beavis & Butt-head)
So tonight is the Season Premiere of Bones' Season 7 and Fox has put together a video that traces the relationship of Booth and Brennan from frustrated co-workers with a tiny spark through (Spoiler Alert if you missed last season) pregnancy, using a song from Michelle Branch's upcoming record. The song is "Loud Music" from West Coast Time.
If you love the show, relive some of the highlights from the past six seasons. If you love Michelle Branch, check out the first single from her new album. If you love both, you're really in luck. If you're not sure about either, you're probably at work right now. Trust me. This is better, boys and girls.
I know what we'll be doing tonight... (oh, and be ready for X Factor Results show tonight; Heather will have the full rundown).